Posted June 1, 2016
Flowcrete appoints Craig Brookes president
Brookes steps up from vice president and international managing director.
---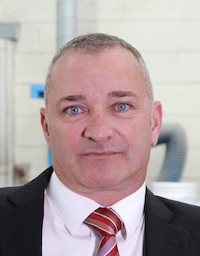 Flowcrete Group Ltd has appointed Craig Brookes, previously the Flowcrete Group Vice-President and International Managing Director, to spearhead global operations as its new President.
The global leader in polymer flooring technology promoted Mr. Brookes to the role after former President, Mark Greaves, stepped up as President of The Euclid Group, the construction chemicals group within the multi-national company, RPM International Inc.
Craig Brookes said: "Being appointed President of Flowcrete Group is an incredible honor, especially as over my two decades at Flowcrete I've seen the company expand and grow from a small UK business to world leader in resin flooring active across six continents.
"Now, Flowcrete Group has never been better placed to capitalize on our geographical infrastructure, advanced technology and extensive expertise to provide resin flooring materials to more construction projects than ever before – regardless of whether the development is in London, Chicago, Hong Kong, Rio de Janeiro, Chennai or Dubai."
Craig Brookes has been working at Flowcrete for 20 years and over this time he has been instrumental to Flowcrete's rapid growth, with a highly successful personal track record of building and sustaining businesses across different global markets.
In 2000, Craig Brookes re-located from the UK to Malaysia to establish manufacturing operations in Kuala Lumpur, building a central hub for Flowcrete's operations across the Asia Pacific and Central Asia.
Since then Mr Brookes has also championed state-of-the-art manufacturing centres in Johannesburg, Durban and Chennai as well as distribution facilities in Sydney, Cape Town, Nairobi, Jakarta, Bangkok, Mumbai, Delhi and Bangalore.
In fact, he wrote the company's rulebook on entering new markets - crafting the time proven Flowcrete Organic Entry Model. This methodology has proven highly successful to establishing effective business, with Flowcrete currently selling into 80 countries worldwide from 31 offices located across the globe.
Craig Brookes added: "Flowcrete has proven itself time and time again to be a dynamic, forward thinking company that is able to supply the world's largest and most complex developments with flooring solutions tailored to meet their requirements.
"I'm delighted to have been chosen to lead the company into a new, exciting and ever more profitable future."
Flowcrete Group has been a subsidiary of RPM International Inc. since 2008 and since then has been embarking on collaborative business strategies with other RPM entities around the world.
The company has been spearheading connections with RPM brands, forging symbiotic relationships to leverage talents, capabilities and resources in a manner that benefits all parties. This has included relationships with Tremco, Carboline and Stoncor as well as The Euclid Group entities.
Flowcrete Group's entrepreneurial spirit and success in capitalizing on cooperative opportunities led to the company being presented with RPM's 2014 Connections Creating Value Award.
A keen sport and car enthusiast, Craig Brookes lives in Kuala Lumpur with his wife Karen and has two grown-up daughters Shelby (23) and Remi (19).
To contact Flowcrete Americas please visit www.flowcreteamericas.com