Posted July 20, 2016
Cool Stories: San Diego to get a new icon
SkySpire Tower will anchor a $1.2 billion redevelopment of a 70-acre bayfront site.
---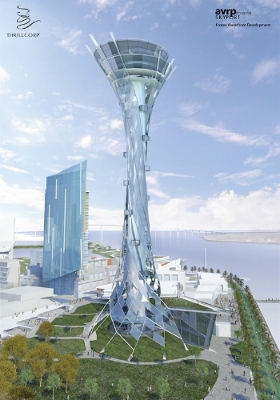 The San Diego Port Authority Commission has selected a $1.2 billion project proposal anchored by a 480 foot tall SkySpire observation tower from ThrillCorp, Inc. to transform 70 acres of prime downtown San Diego waterfront.
ThrillCorp Inc., a developer of iconic vertical entertainment experiences, is a partner in a consortium called 1HWY1 led by Protea Waterfront Development as the Managing Member. The winning proposal was one of eleven that the Port received for this unique 70 acre waterfront site.
The Port and Protea Waterfront Development are expected to complete final review of the proposal by October, which will begin the development process immediately thereafter.
"I believe this site is unquestionably one of the best waterfront sites in the United States that when completed will redefine experiential urban, mixed-use development and make San Diego a truly world class city," said Yehudi "Gaf" Gaffen, the spokesman for Protea Waterfront Development.
"The 6-1 vote in favor was a decisive win," said Michael Kitchen, Chief Development Officer for ThrillCorp. "Our team did a tremendous job assembling and presenting a complete and compelling vision that includes a curated collection of unique land uses in a well-thought out design. The Port of San Diego set a high bar of expectation and we are very grateful to have been deemed to meet it."
In addition to the SkySpire, the $1.2 billion dollar redevelopment proposal includes a uniquely interactive aquarium, Bayfront beaches, hotels, marinas, retail, dining and other entertainment in a district that makes the most of its waterfront location.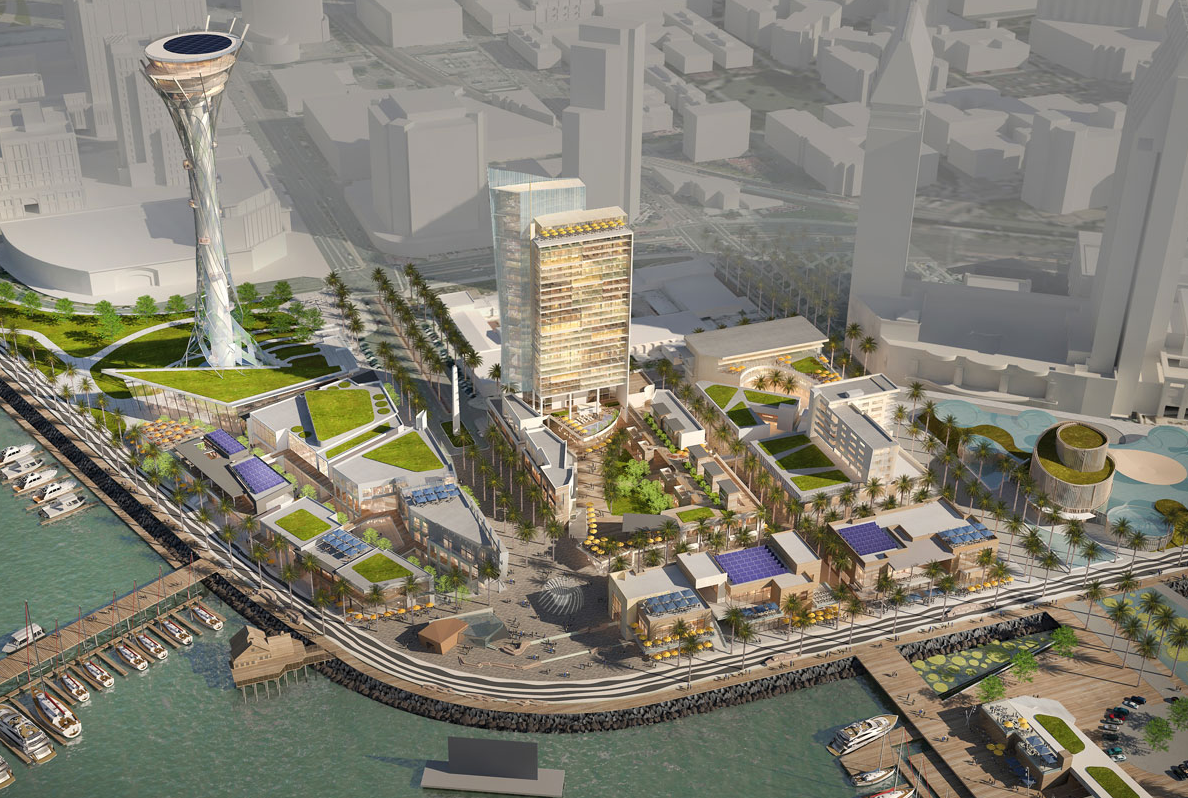 One of the most visible elements of the project is the ThrillCorp SkySpire, a 480-foot-tall contemporary tower that is sure to become the symbol most associated with San Diego. Designed by AVRP/Skyport Studios, the SkySpire will be an iconic addition to the San Diego waterfront.
"We are proud to add our tower to the already stunning San Diego waterfront skyline," said Bill Kitchen, Chairman of ThrillCorp and inventor of the spire product.
The SkySpire features gondolas that spiral around the tower as they transport guests to a top level interactive observation experience to be designed in partnership with the Smithsonian Media.
"Guests can disembark at the top to enjoy the beauty of San Diego and engage some of the latest technology to learn about the area and its history," continued Kitchen. A second upper level includes a restaurant that affords patrons stunning views while dining. "This will become an incredibly popular destination with breathtaking views."
For ThrillCorp, the timing is spectacular. The company has just commenced offering shares to the public under a Crowdfund Regulation A+ offering.
"We have a great set of patented products, a terrific team and a solid business plan," said David Gust, CEO of ThrillCorp. "Selection of our team and our product in San Diego adds tremendous value potential to the Company. It places our observation product in an absolute trophy location. We are on a mission to create the most unique entertainment experiences in the world and this another step along that path."
For more information on the San Diego project, visit www.seaportsandiegoca.com.