Posted March 21, 2017
Moody's: Progress on U.S. infrastructure likely to be slow
Despite calls to action, investment will be slow to ramp up due to funding, regulatory and workforce hurdles.
---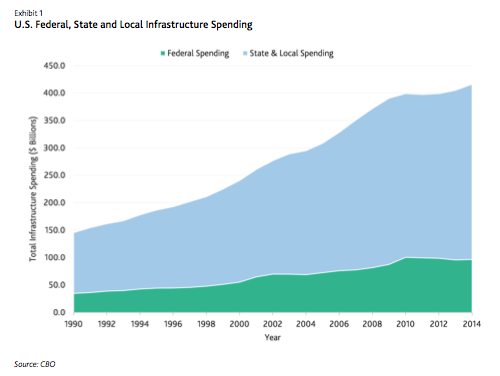 While federal government proposals calling for $1 trillion in infrastructure spending would be credit positive for state and local economies, several constraints suggest that investment will be slow to ramp up, according to Moody's Investors Service in a new report.
Due to a lack of bipartisan agreement over funding mechanisms, as well as regulatory hurdles and practical constraints, Moody's expects additional spending to be modest in 2017 and 2018.
Budget pressure at all levels of U.S. government in recent years has limited the ability to adequately reinvest in the nation's critical infrastructure. Both parties in Washington have called for initiatives to address the funding gap, but disagreements over private sector involvement may prevent progress toward a consensus.
"Either proposal would amount to a $100 billion annual increase in spending on infrastructure," says AJ Sabatelle, a Moody's managing director and the lead author of the report. "But finding a reasonable balance between direct government spending and private investment will take time."
In addition to political disagreement, regulatory approval issues like environmental reviews and litigation can slow the rate at which new infrastructure projects can materialize, according to the report, "U.S. Infrastructure: Large Increase in U.S. Infrastructure Spending Will Be Slow to Develop." Meaningful acceleration of lead times for new projects would likely require regulatory reform involving federal, state and local agencies or passage of new legislation.
Practical considerations regarding the pace at which new projects can proceed are also likely to hamper near-term investment.
"Such a rapid increase would pose significant challenges to large engineering and construction firms, which would need to hire and train new project managers and locate skilled laborers," says Sabatelle. "The sector is going to need time to gear up."
If private capital is to play a significant role in facilitating the increase in infrastructure spending, the use of public-private partnerships (P3s) will likely be necessary. While the pipeline has grown, P3s currently fund less than 5% of annual infrastructure investment. Moody's anticipates continued evolution of public policy and additional legislative action that promotes P3s and simplifies their legal framework.