Posted March 22, 2017
Blogs: Larson Electronics on skid-mount light towers
Versatile and flexible features can really add some serious value to a lighting system.
---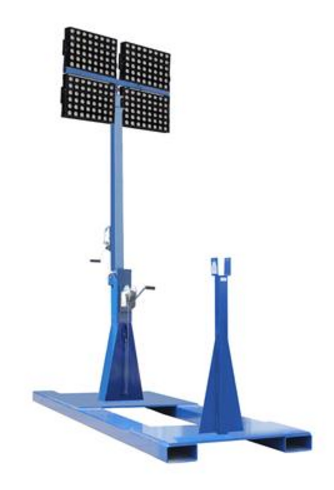 A feature that has recently received a lot attention from industrial refineries in southern regions across the US is skid mounts.
Skid mount simply refers to a portable component platform that is permanently attached to tools, machines or equipment.
Now let's answer three burning questions surrounding the application and selection process of skid mount light towers.
What are the benefits of skid mounted light towers?
Skid-mounted light towers come with all of the necessary equipment in one package, reducing issues related to installation and deployment for temporary or remote projects around the work site. The components of the lighting system are strategically manufactured on the skid mount in a manner that makes them more accessible and easy to use.
Gone are the days when you have to assemble colossal light towers on-site! These units incorporate modular construction principles by delivering an entire, fully-functioning lighting system in one convenient package.
What about storage and transportation?
Skid mount light towers may seem bulky to the untrained eye – but in reality, they can be equipped with features for accommodating tight spaces. Some units, like the 500W LED Skid Mounted Light Mast from Larson Electronics come with fold-over and telescoping components that reduce bulkiness during storage. For transportation, this unit also comes with skid pockets for hoisting via forklifts.
How do I know which skid mount light tower is right for me?
That's a great question! Head over to the link below to see Larson Electronics' wide selection of skid mount light towers. Larson also caters to customization requests for skid mount light masts (and other products on their website), in case you have specific needs – such as different types of lamps, voltage requirements, beam configurations, cords and etc.
Larson can equip transformers and generators to go with your skid mount luminaries for a power/lighting solution combo! These units could also be configured for outdoor use or take on explosion proof features for deployment in hazardous locations.
Click here to learn more.