Posted November 7, 2017
Distribution One releases Dashboard Data Analytics
New ERP ONE+ application generates real-time data analytics for measuring business functions.
---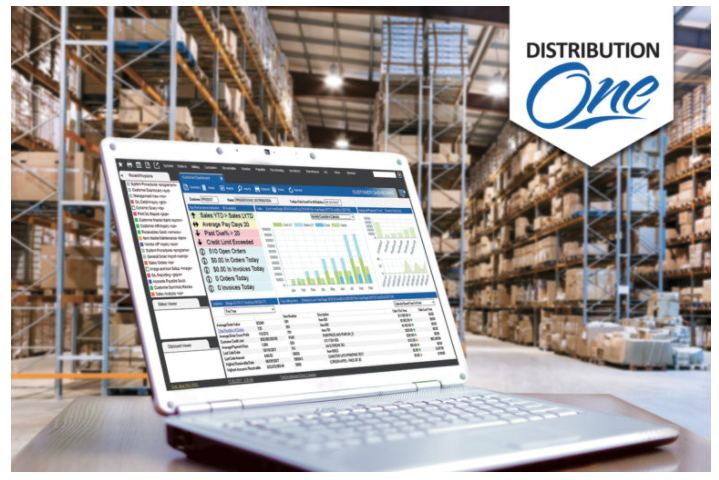 Enabling real-time visibility into company-wide performance, Distribution One proudly unveils a fundamental ERP-ONE+ application for wholesale distributors: Dashboard+.
Based upon a company's own accurate data, ERP-ONE+ generates real-time Dashboard+ data analytics to provide crucial insights into current business health.
Integrated into ERP-ONE+, Dashboard+ provides the ability to quickly identify Key Performance Indicators (KPIs) that are most significant to individual users. Auto-loading at startup, Dashboard+ presents color-coded status alerts signifying areas requiring immediate attention as well as system-defined alerts encompassing all system practices.
Tasks are generated from ERP-ONE+ calendar events and are user-specific. Users also have the ability to send alerts to each other via internal system mail messages.
Used for comparing fixed values, period trends, and more, the user-defined KPIs can be applied to specific users or utilized system-wide when no user ID is defined. Featured charts clearly display trends on assets, liabilities, sales, and cost. Interactive KPI metrics, based upon ERP-ONE+ business data, can be modified easily with the click of a mouse. Dashboard+ allows users to quickly drill down into related in-depth information to identify issues and opportunities.
Dashboard+ provides distributors critical insight and visualizations into all aspects of business operations to help users make informed decisions more quickly. For additional information on specific Dashboard+ functionality or to request an ERP-ONE+ software demonstration, contact info@distone.com.
Learn more at www.distone.com