Posted November 15, 2017
Industry veteran Michael Terrell passes away
Former Cleveland Twist Drill, Warren Tool and EvenCut Abrasives executive died on November 11, 2017.
---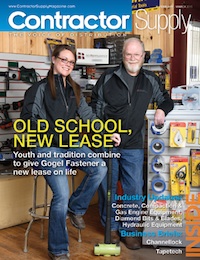 Michael Terrell, born on September 7, 1946, passed away surrounded by his family and close friends on November 11, 2017. He married Debbie Terrell on June 12, 1982.
He is survived by his eight children, Pat (Amy), Kim (Rich) Birsic, Chris (Amy), Heather (Adam) Berry, Melissa (Jeremy) Overbay, Matt (Olivia), Steven (Haeley), and Caitlin. He is also survived by his 12 ½ grandchildren, Will, Keely, Abby, Madeline, Callie, Elliott, Morgan, Gabbi, Cooper, Chloe, Mason, Erin and soon to be, Clara.
Michael graduated from Lakewood High School in 1964. He also graduated from Cleveland State University in 1974 with a Bachelor's degree in Marketing.
Contractor Supply profiled the last act of Michael's 60-year career in the tool and distribution channel with Gogel Fastener and Industrial Supply Company of Toledo, Ohio, which he purchased to pass on to his family. Click here to read that story.
Michael was a resident of Medina for 28 years. He was an active parishioner and Eucharistic Minister at Holy Martyrs Church. He enjoyed going to auctions, camping, and cheering on his children and grandchildren in their sporting endeavors. He was a clam bake master and a lover of all things Irish.
Friends may join the family for Visitation on Friday, November 17, 2017 from 2 to 4 PM and 7 to 9 PM at Carlson Funeral Homes & Cremation Services, 3477 Medina Road (corner of Rt. 18 and River Styx Road), Medina, OH 44256. Visitation also will be held on Saturday, November 18, 2017 from 9 to 10 AM before the 10 AM Mass at Holy Martyrs Church. (Please meet at the church).
In lieu of flowers, donations may be made to Holy Martyrs www.holymartyrs.net and any organization that supports studies for Guillain-Barre' Syndrome or www.gbs-cidp.org