Posted December 13, 2017
Living in Canada — without a furnace?
How Canadians are constructing North America's biggest green buildings.
---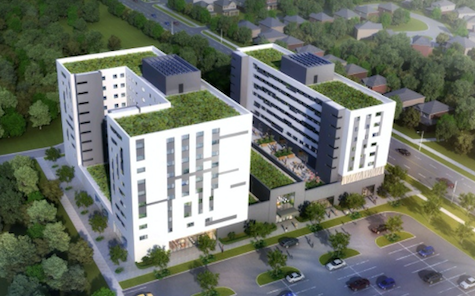 The passive design of the University of Toronto Scarborough Campus residence includes an eight-story tower and a ten-story tower, connected at the bottom by a black podium containing a huge dining hall and commercial kitchen, along with stores and student common areas. (Kearns Mancini Architects)
In January, tenants will move into a six-story Vancouver apartment building designed to be so energy efficient, you could heat each bedroom with a 100-watt light bulb.
Boasting a total of 85 studio, one- and two-bedroom units, The Heights at 388 Skeena St. will be the largest "passive house" building in Canada.
But it won't hold that distinction for long. Others are under construction and many more are at the rezoning stage, including a residence that will house 750 students at the University of Toronto's Scarborough campus and two 40-plus highrise towers in Vancouver that aim be the tallest passive house buildings in the world.
Passive houses are green buildings constructed using a set of international design principles and standards that allow them to use up to 90 per cent less energy for heating and cooling than conventional buildings — and produce far fewer greenhouse gas emissions.
Click here to read more.
Source: www.cbc.ca