Posted April 2, 2018
MAPI predicts full manufacturing recovery by April 2019
U.S. manufacturing is predicted to regain all output lost in the Great Recession by April 2019.
---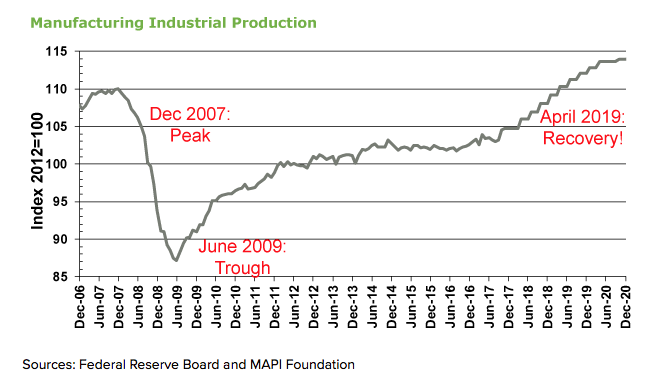 After years of post-financial crisis struggle, the U.S. manufacturing sector finally has a range of recovery tailwinds that are catalyzing its increasingly sunny outlook. The world is now experiencing a strengthening economic rebound, with every major region enjoying stable performance. Some regions, including the Eurozone, are growing above the expectations of forecasters.
The global economic rebound along with the passage of tax reform legislation in the U.S. and the resumption of a much-needed dollar depreciation that began in the early months of 2017 has given rise to the MAPI Foundation's outlook for the best U.S. manufacturing growth performance in more than a decade.
As of the latest data for January 2018, manufacturing output remains 4.7% below the December 2007 level. For the first time, however, recovery is seen in the forecast. MAPI projects that the U.S. manufacturing sector will fully regain all lost output by April 2019, just short of a decade since a trough was reached in June 2009.
The current forecast represents a measurable jump from MAPI's November 2017 outlook. In fact, it is a near doubling of MAPI's projection for average U.S. manufacturing growth for the 2018-2021 period, from 1.5% to 2.8%. While seemingly dramatic, this marks the return to a long-term normal for factory sector growth. Such performance has long been impeded by the financial crisis, the Great Recession, and the weak and risk-laden years of global performance that followed.
Click here to read the entire report.
Source: mapifoundation.org