Posted April 18, 2018
Portamix unveils new brand in Paris
Company brings brand in-house and launches upgraded product line.
---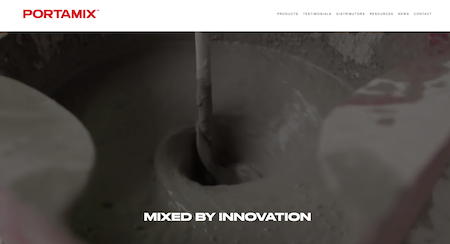 Portamix, the world's best mix-and-pour flooring system, is unveiling its new brand at the World of Concrete trade show in Paris, April 23rd - 28th.
View the new Portamix website.
Portamix was invented in New Zealand by Miles Suckling in 1998 and has revolutionised the concrete and floor application industry since.
"A floor coating manufacturer had asked us to source a mixer that could efficiently mix multiple bags of coating material and be easily transported onsite to be applied," Suckling explains.
"We searched far and wide around the world and realised the product didn't exist. By asking around, we also realised plenty of people wanted such a product. So, we designed and built it."
"20 years on and Portamix is still the most effective mixer in its class. It mixes epoxies, resins and cement-based products very quickly, plus it's very manoeuvrable, simple to use, and easy to clean. For contractors, that means less strain or injury and much higher productivity."
Until now, the Portamix brand and its flagship products, Mega Hippo and Pelican, have sat under the Intex brand — the Australasian supplier of high quality drywalling tools.
But Portamix is relaunching at the World of Concrete trade show in Paris to stand on its own two feet.
"We've given the branding a subtle refresh to modernise and strengthen it, and we've designed and built a brand new Portamix website," Suckling says.
"But don't worry, the products are the exact same ones contractors have been trusting for years."
Portamix has grown so much in recent years that it quickly became clear splitting away from Intex was the only logical decision.
"We're so pleased of where Portamix has got to in the past two decades. We're selling our products globally and now we're raising our profile so that contractors know there is a product available that will make their life easier— launching the new brand in Paris is a nod to that."