Posted May 16, 2018
Josh Nickell joins Point of Rental
Rental industry leader becomes POR's Director of Global Strategy.
---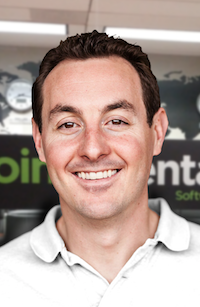 Point of Rental Software's worldwide team has added Josh Nickell as its Director of Global Strategy. The former CEO of Nickell Rental joined the company in May, continuing a 20-year career in the rental industry after selling his company to Sunbelt Rentals.
"Joining the team at Point of Rental allows me to combine three of my lifelong passions – technology, rental, and building highly-engaged, scalable teams," said Nickell. "There is so much opportunity in data analytics and innovative technologies and no company is better positioned to leverage that than Point of Rental. Being a part of the Point of Rental team just makes sense; having the opportunity to build teams that partner rental businesses with innovative technology – that's a dream come true."
As Director of Global Strategy, Josh will focus on building greater synergy among Point of Rental's teams based in Dallas, U.S.; Reading, U.K.; and Melbourne, Australia. This will increase company-wide data sharing, open new markets for the software, and solidify the company's core values across an international spectrum.
"Point of Rental's reputation is built upon our firsthand rental experience and knowledge of the industry," Wayne Harris, CEO of Point of Rental Software said. "That's what sets us apart from other rental software providers. We are always working to build on that reputation by adding people with working rental experience; and we jumped at the chance to add Josh Nickell to our team. He is a walking encyclopedia of rental knowledge. Under his leadership, Nickell Rental was one of the most forward-thinking rental companies in the industry. Adding his insight and expertise allows us to make our software that much more attuned to our customers' needs."
Point of Rental Software provides award-winning rental and inventory management solutions to thousands of companies worldwide. Founded in 1983, the company offers smart, scalable software designed for rental companies of all sizes and industries. Point of Rental Elite delivers a customized ERP software for world-class rental corporations. Point of Rental Expert is a full-featured rental management software that optimizes complex operations for advanced rental businesses. And, Point of Rental Essentials is a cloud-based rental and inventory software that streamlines business for straightforward rental operations.
To learn which product is right for your business, visit point-of-rental.com or call 1-800-944-RENT (7368).