Posted June 6, 2018
Calculated Industries offers new feature on calculator apps
New advanced tape function displays, reviews, saves and emails inputs, descriptions and calculated values.
---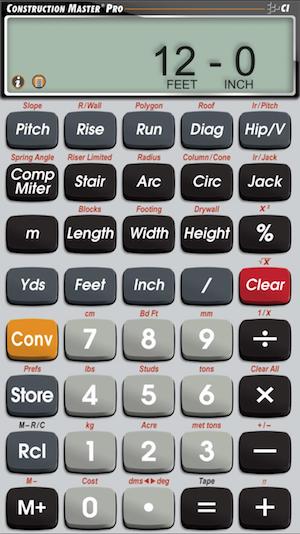 Keeping pace with customer needs, Calculated Industries (CI) has released its latest enhanced feature for a number of its calculator Apps. The new Advanced Tape feature is now available on five of the company's Apps including the award-winning Construction Master Pro (CMP).
The Advanced Tape function provides a number of features that make the Apps more useful. It enables you to display, review, save and email inputs, descriptions and calculated values for many of the functions on the Apps. It records your inputs and outputs for saving as a file to archive or to send as an attached PDF in an email.
It is available for the Construction Master Pro, Construction Master 5, Pipe Trades Pro, Qualifier Plus IIIx and the Measure Master Pro.
"Advanced Tape helps you work smarter by keeping track of measurements, cut lists, and other figures while you are at a jobsite, in the shop or just out of the office," said Steve Kennedy, President of Calculated Industries. "Plus, being able to email files to estimators, sub-contractors and others makes construction and manufacturing work more efficient."
When the Advanced Tape feature is available for a function in the App, a tape icon appears in the display, tap to open the Advanced Tape. It is just as easy to access Advanced Tape archives by opening the Tape function at any time. Using the Advanced Tape feature on a mobile device enables users to do advanced calculations, save the detailed results to a file, and then email the file to the office, a client and others to keep a job moving forward.
One example of how this works is in the calculation of a stair case on the CMP. Simply input the floor-to-floor rise and any horizontal constraints of where the stairs are needed and let the CMP figure out the rest. The App provides you with the output of the riser height, how many risers you have, tread width, number of treads, stairwell opening, the stringer length and stair angle of incline.
Calculated Industries' Apps are available through the App Store, Google Play and the Windows Phone Store. Existing users of CI's Apps can update their app to receive this new feature for free. Available for iOS and Android operating systems.