Posted August 30, 2018
Southwire acquires ProBuilt Professional Lighting
ProBuilt products include Wobblelight and Hang-a-light job site lighting solutions.
---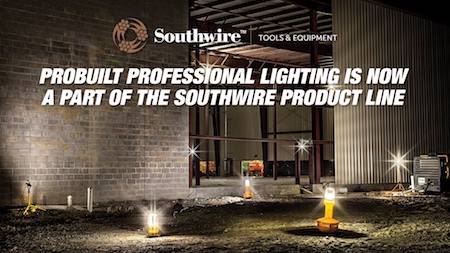 Southwire is pleased to announce the acquisition of ProBuilt Professional Lighting, LLC of Mundelein, Ill. – a manufacturer of high-quality, innovative lighting products for industrial and commercial applications.
"On our journey to accelerate growth, we continue to find innovative ways to expand our product offering and meet the evolving needs of our customers," said Rich Stinson, Southwire's president and CEO. "ProBuilt is a strong addition to our product portfolio and a valuable complement to our business."
ProBuilt is widely recognized for designing unique, high-quality lighting solutions used on job sites including the Wobblelight, Hang-a-light, flood lighting, utility lighting and several specialty lighting products.
"As a business group, our mission is to make contractor's lives easier," said Norman Adkins, EVP and president of Southwire's Construction Systems & Solutions group. "The acquisition of ProBuilt strengthens this commitment, and we are pleased to add these products to our growing suite of contractor solutions."
The acquisition of ProBuilt Lighting is an asset purchase. The business will relocate to Carrollton, Ga., as a part of the company's Tools and Assembled Products business unit.
"ProBuilt, with its focus on job site lighting, is a great addition to our lighting product line, and the rest of our Tools and Assembled Products," said Brandon Moss, Southwire's SVP and president of Tools and Assembled Products. "We are excited to add ProBuilt to our product line and look forward to better serving our customers with an expanded offering of lighting solutions through this acquisition."
For more information on ProBuilt Professional Lighting, visit probuiltlighting.com.
For more on Southwire products, visit www.southwire.com.