Posted December 26, 2018
APEX Assembly & Fabrication celebrates 85 years on the production line
Founded in 1933, the company's first products were bits and sockets for auto plants.
---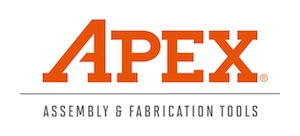 A standard on many assembly lines today, APEX Assembly & Fabrication celebrates 85 years in operation this month.
The product line was originally formed under APEX Machine and Tool Company in 1933, manufacturing bits and sockets for automotive production floors that were building Packards, Fords and Buicks during the depression.
Over the decades, the APEX brand has introduced numerous innovations that helped modernize America's production lines. APEX design teams led the development of iron band universal wrenches, collapsible sockets and extensions, market sockets, combination sockets, and u-GUARD safety and anti-mar products. These innovations opened the door for improved efficiency, speed, accuracy and safety, not only for automakers but for a wide range of heavy duty industrial production as well.
APEX recently put its engineering skills to the test designing and manufacturing a driving tool for the new External MorTorq Super Spiral Drive for Phillips Screw Company. The MorTorq fastener design allows the same torque ratings in similar size fasteners with 15% less head height. This is a critical feature in limited space applications or where weight reduction is critical.
APEX is proud of its heritage as the manufacturer that developed the initial Torx tools for Acument in 1967 - now a global assembly standard. APEX recently passed the 50-year milestone in making licensed Torx fitments, and are one of the world's largest suppliers of quality Torx tools. It provides custom solutions for challenging customer application issues, creating several hundred new part numbers per year.
"It is because of a continual focus on customers and innovation that the APEX brand remains strong today. The industry relies on our wide range of quality and long-life fastening solutions to enhance productivity, safely," shares Bill Pugh, VP & Global Commercial General Manager, Accessories.
Learn more at www.apextoolgroup.com.