Posted January 23, 2019
Existing Home Sales Down Sharply in December
Sales for month hit lowest level since November 2015.
---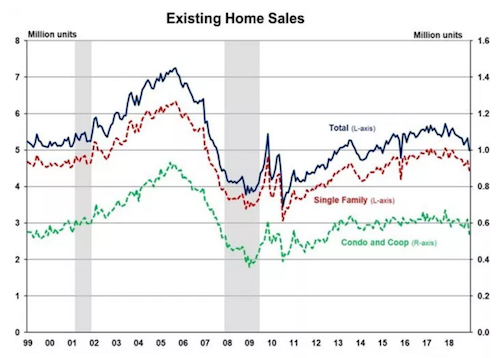 Total existing home sales fell 6.4% to a seasonally adjusted rate of 4.99 million in December, according to the latest figures by the National Association of Realtors. Sales are at their lowest level since November 2015 and down 10.3% from a year ago (5.56 million in December 2017).
Total existing home sales include single-family homes, townhomes, condominiums and co-ops.
Existing home sales remained sluggish in 2018 due to rising mortgage rates, growing home prices and tight inventory.
Meanwhile, the new home sales report for December scheduled to be released on Jan. 25 will likely be postponed due to the government shutdown.
The first-time buyer share of existing home sales slightly declined to 32% in December from 33% the previous month. The December inventory decreased to 1.55 million units from 1.74 million units in November. At the current sales rate, the December unsold inventory represents a 3.7-month supply, down from a 3.9-month supply last month.
Homes stayed on the market for 46 days in December, up from 42 days in November and 40 days a year ago. In December, 39% of existing homes sold were on the market for less than a month.
The December median sales price for existing homes was $253,600, up 2.9% from a year ago. This marks the 82nd consecutive month of year-over-year increases. The December median condominium/co-op price of $240,600 was up 2.3% from a year ago.
Source: www.nahbnow.com