Posted February 13, 2019
UDG president Darrell H. Cole announces retirement
Cole has been with United Distribution Group since 1976.
---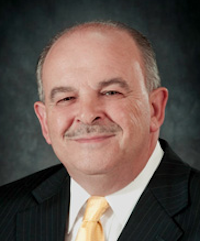 SunSource, a value-added distributor of fluid power and fluid process technologies, announces the retirement of United Distribution Group, Inc. President & CEO, Darrell H. Cole, effective February 15, 2019.
Cole has served a long 43-year career with United, going all the way back to 1976 when he joined at the genesis of the company. During his tenure with the organization, he has seen it grow from a single location in rural southwestern Virginia, with just a handful of team members, to a nation-wide entity today with over 60 locations and 700 plus team members. United has consistently been named one of the Top 25 industrial distributors in the United States.
"It has been an honor and a privilege to be associated with the employees of The United Distribution Group, United Central Industrial Supply Co., GHX Industrial, and McCarty Equipment Co. as the organization grew and prospered," said Mr. Cole. "As I begin the next chapter of life, I look forward to seeing the company continue to grow and prosper through its affiliation with the SunSource group of companies. At the same time, I look forward to spending more time with family and traveling."
"It has been an honor to work with Darrell through the transition period of joining forces with United Distribution Group," remarked David Sacher, CEO of SunSource. "He has built a great leadership team and has provided the support to ensure that the transition will be successful for all associates, supplier-partners and customers. We are all thankful."
About SunSource
Headquartered in Addison, Illinois, SunSource is a value-added distributor of fluid power and fluid process technologies in the U.S. and Canada. As a technically-focused distributor, SunSource serves as an extension of its customers' design and engineering teams and its suppliers' sales forces, delivering innovative solutions that lower total costs and streamline supply chains. The company operates through four highly focused strategic business units that provide tailored solutions for the unique needs of its customers. For more information, visit www.sun-source.com.