Posted February 14, 2019
IDI merges with AD
IDI Independent Distributors Inc., will merge with member-owned buying/marketing group AD on April 1.
---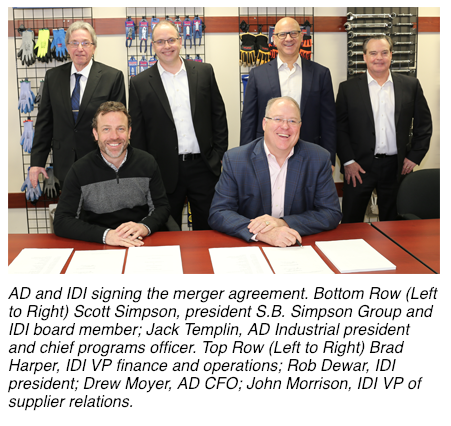 IDI has 107 independent industrial Canadian distributors with more than 364 locations. AD also welcomes 21 new employees and a distribution center located in Mississauga, Ontario as part of the transaction.
This is AD's ninth merger since the group's founding and its fourth merger within Canada. AD completed mergers with Canadian electrical groups in 1993 and 2012, and a Canadian plumbing and heating group in 2016. AD Canadian members represent 20 percent of AD consolidated sales.
Coming on the heels of AD's January acquisition of the IDC-USA group, the IDI merger further enhances the group's private label and redistribution capabilities, reaffirms AD's commitment to independent industrial distribution throughout North America and reinforces the value of single industry groups coming together under the AD multi-industry umbrella, according to a statement announcing the merger.
"On behalf of the 100-plus IDI members, we are proud to join this group of best-in-class independent distributors and supplier partners. The IDI members will now get the best of both worlds, programs and services we value from IDI, and the multi-divisional scale and infrastructure of AD," said Steve Drummond, board chairman of IDI and president of Source Atlantic.
Drummond added, "We are also very fortunate that AD has the resources and the experience to seamlessly accomplish a merger of this size. Source Atlantic has benefited from two AD mergers. We first joined the group when AD merged with our former electrical group, and then our former plumbing and heating group joined AD, so I speak from experience when I say that AD knows how to do mergers right."
As a part of the merger, IDI president Rob Dewar will take on the role as president of AD Canada Industrial & Safety.
"The programs that AD offers to help their members compete today and into the future, cannot be replicated without the scale, and program innovation that AD provides," Dewar said. "A great example is the significant investment that AD continues to make in eCommerce; this investment is unparalleled and will be a true game changer for the new members of AD Canada Industrial & Safety."
Jack Templin, AD chief programs officer and Industrial president, said, "We are honored to welcome IDI members, suppliers and staff into the AD family. The members are Canadian owned and operated entrepreneurs, local market leaders focused on strong service with a desire to collaborate and share best practices. This merger expands AD Industrial's footprint in North America, our range of services, and helps us to continue to create a winning environment for independent distribution."