Posted March 27, 2019
Report: Recovering from a hurricane takes an average of 11 months
BuildFax U.S. Hurricane Recovery Report looks at recovery and prevention activities following major storms.
---
In the BuildFax Natural Disaster Report released today, the company analyzes residential maintenance activity in 2017 and 2018 following four major storms in the U.S. — Hurricanes Irma, Harvey, Florence and Michael.
The report outlines average hurricane recovery timelines, the highest volume of repairs for each hurricane and regions that experienced the largest increases in preventive measures. Insight into preparedness activity gives insurers insight into which properties have a higher likelihood of withstanding future events and which may be riskier heading into the next hurricane season.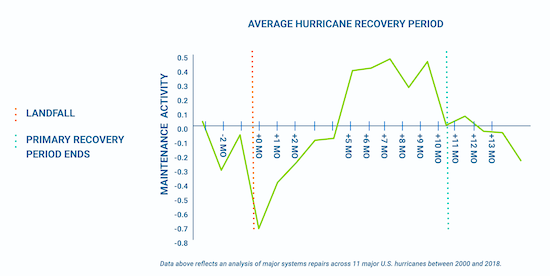 BuildFax findings reveal:
The average recovery period for 11 major hurricanes between 2000 and 2018 was 10.7 months.
Hurricanes Irma and Harvey exceeded average recovery timelines, while the rebuilding period for Florence and Michael is projected to be shorter than average.
Roof repairs made up 55.43 percent of maintenance work following Irma and electrical repairs comprised of 33.00 percent of maintenance work following Florence.
Storm shutter installations, a key preventative upgrade for properties at risk of storm damage, spiked 24.81 percent last year.
"As hurricanes increase in frequency and intensity, recovery patterns are changing based on the nature of the storm and the property risk landscape," said BuildFax COO Jonathan Kanarek. "Leveraging key hurricane recovery and preventative activity insights in the wake of a disaster can elevate efficiencies in insurer underwriting and claims functions for future storms. This is paramount to ensuring the best experience for homeowners and assisting in a quicker economic recovery."
For more insights around hurricane recovery, access the full report here. To learn more about BuildFax, visit www.buildfax.com.