Posted April 8, 2019
Hoffmann Group USA optimizes web-based eForm Configurator for rigid foam Inlays
Customers can design customized rigid foam inlays for tool cases, drawers and cabinets.
---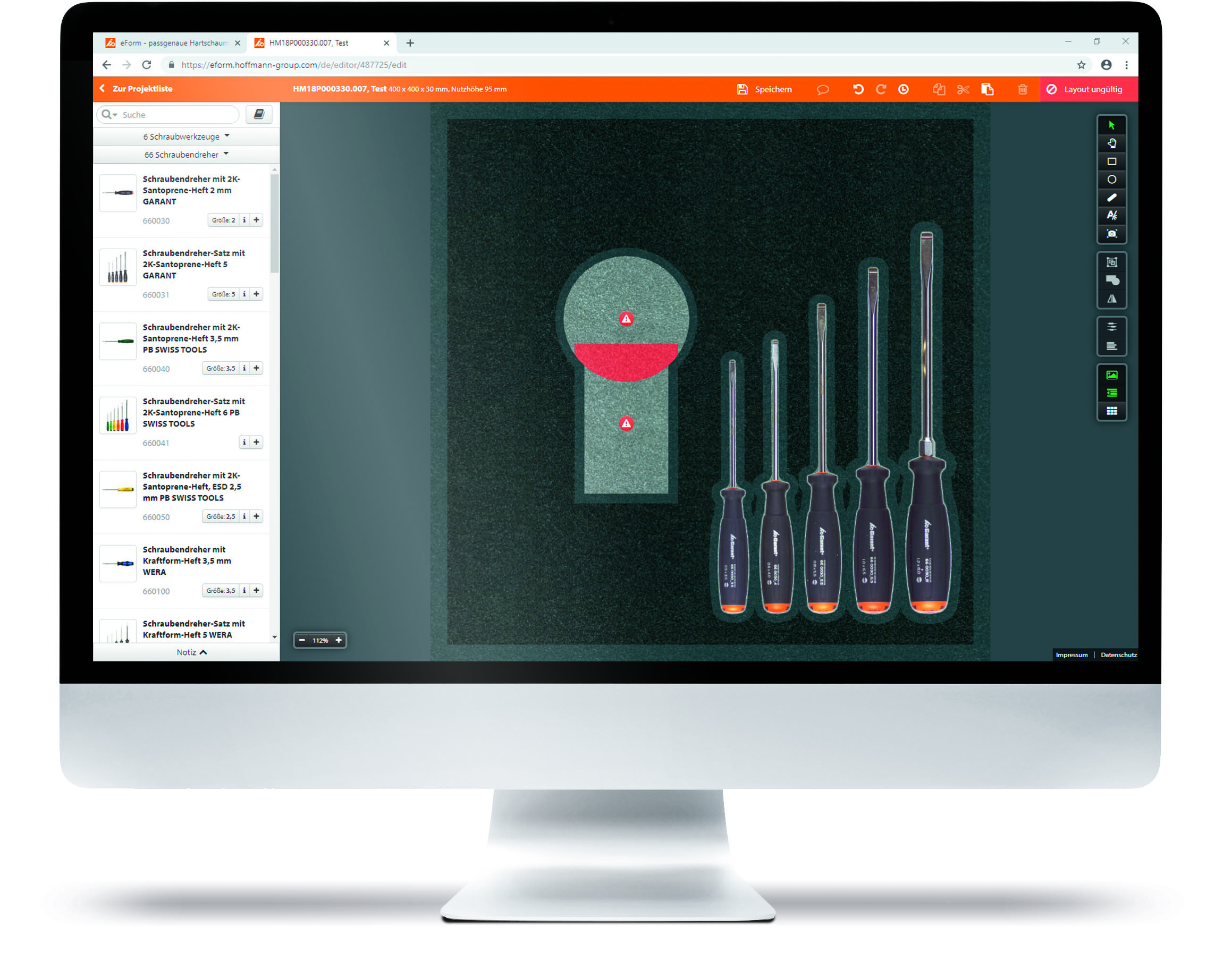 Using the eForm online configurator, Hoffmann Group USA customers can design rigid foam inlays where tools be positioned above one another.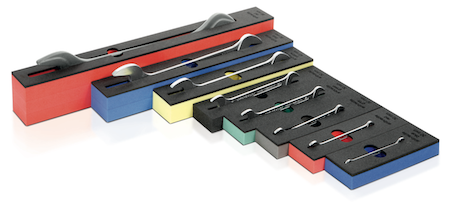 eForm rigid foam inlays are available in four thicknesses and six basic colors. New flame-retardant special foams are available in blue/black, and the conductive ESD foam is available in plain anthracite.
Hoffmann Group USA today announced that its Web-based eForm configurator has been optimized for free-form surfaces. Using eForm, Hoffmann Group USA customers can design their own customised rigid foam inlays, whereby individually placed tools are not only positioned next to each other, but also above one another. This enables a larger number of tools to be stored in tool cases, drawers and cabinets, in an orderly manner.
A new XXL scanning pad, measuring 1000x400 millimetres, makes it possible to create rigid foam inlays for small and extremely large tools – providing convenient storage options.
Hoffmann Group USA will be hosting a Webinar series regarding eForm. The first Webinar, Intro to eForm - Getting Started and Using the Configurator, will take place Wed, Apr 24, 2019 2:00 PM - 2:45 PM EDT. Those interested can join the meeting from their computer, tablet or smartphone here: https://global.gotomeeting.com/join/196365365. You can also dial in using your phone. United States: +1 (872) 240-3311 Access Code: 196-365-365
"With our newly optimized eForm configurator, creating customized rigid foam inlays for your drawers, cabinets and tool cases has never been easier," said Charlie Slagle, President & CEO of Hoffmann Group USA. "The end result for our customer is cleaner, easier to navigate storage systems and work spaces."
The eForm rigid foam configurator from the Hoffmann Group USA makes creating rigid foam inlays for tool cases, drawers and cabinets simple. This is how it works: Place the tools on the scanning pad; take a photo using a smartphone or digital camera, post-edit it on the computer and it's done. Users can also configure their foam inlays on their computer, without the need for a scanning pad, by using the comprehensive database with 14,000 pre-installed tools and 30,000 tool contours from the field of machining and clamping.
With tool cases, particularly, every millimetre of extra storage space is critical. That is why Hoffmann Group USA has expanded the eForm service with the "free-form surfaces" function. This enables a milling pocket to be created, for example, in which the blade of a file is positioned above the blade of a Gent's saw – creating a case is better organized, and that stores more tools.
Based in Knoxville, Tennessee, Hoffmann Group USA is a wholly-o­­wned subsidiary of The Hoffmann Group, Europe's leading system partner for quality tools. The company offers 85,000 quality tools from 500 of the world's leading manufacturers including GARANT, Hoffmann's own premium brand. Hoffmann product lines include hand tools, cutting tools, workstations, and storage options.
Hoffmann Group, with an international corporate headquarters in Munich, Germany, combines trading competence with leadership in both manufacturing and service. This combination guarantees reliability in supply, quality, and productivity in the tooling sector to more than 135,000 customers. The company, with its worldwide partners and over 2,500 employees, serves major companies as well as medium-sized and small companies in more than 50 countries. www.hoffmann-group.com