Posted April 23, 2019
ITR Webinar - U.S. Housing and Nonresidential Construction: A Tale of Two Sectors
Webinar is set for April 30, 2019 at 2:00 p.m. EST with Taylor St. Germain.
---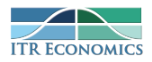 For those in the US residential construction sector, economic pressures will work against achieving higher profits in 2019 and 2020. Meanwhile, in the nonresidential construction sector, trends suggest there will be ample growth opportunities throughout this year. Attend the webinar to learn what the leading indicators are telling us, where each sector is heading, and the implications for today's decision-makers. Plan with confidence and make your move at the right time.
Attendees will learn a method to enable their companies to take advantage of their own data and the economic environment. Using rate-of-change calculations, audience members will learn to identify their position in the business cycle as well as the key leading indicators that should inform their business strategy, enabling them to make the right decisions at the right time.
Click here to purchase your seat.
This webinar is presented by ITR economics, STAFDA's designated economic consultants. Learn more about ITR at www.itreconomics.com.