Posted May 22, 2019
BAHCO issues 2019 Industrial Metal Sawing Bandsaw Blades catalog
Catalog lists cutting solutions for machine shops, foundries, aerospace and general-purpose applications.
---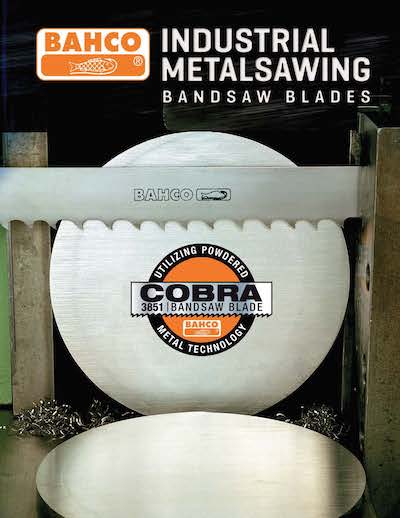 From general purpose to heavy production cutting applications, BAHCO has every blade covered in its new 2019 Industrial Metal Sawing Bandsaw Blades catalog.
The new catalog contains 32 pages of cutting solutions designed for machine shops, foundries, aerospace and numerous industrial general-purpose applications. The catalog features a variety of blades, including BAHCO's Wavy Back Bandsaw Blade, which is designed and engineered for the toughest cutting applications, as well as nine bimetal, nine carbide-tipped blades and carbon steel blades.
Bimetal
Pallet Dismantler
3861 Sandcut Bimetal
Sandflex M42
3857 Easy Cut
3851 Cobra
3853 TOP Fabricator
3858 Sandflex P9000
3854 King Cobra PHG MKIII
3854 King Cobra PHG PQ
Carbide Tipped
3860 Multi Chip Unset Carbide Tipped-TMC
3860 Triple Chip Unset Carbide Tipped-TCL
3860 Multi Chip Unset Carbide Tipped-TCZ
3860 Multi Chip Unset Carbide Tipped-TCD
3868 Carbide Triple Set TSS (Honed)
3868 Carbide Triple Set XTRA
3881 Carbide Triple Set THS (Quad Grind-Honed)
3881 Carbide Triple Set THQ (Quad Grind)
3869 Carbide Triple Set
BAHCO's diverse line of horizontal and vertical cutting solutions are designed and engineered to increase productivity and provide cost savings, while detailed guides and selection charts in the catalog help users identify the right solution for a variety of materials including wood, steel, piping, rods and hard-to-cut alloys.
In addition to accessory listings including chip brushes, measuring tools and safety equipment, BAHCO's new Bandsaw Blade Catalog provides additional assistance to aid customers with their purchasing and ownership experience:
Tooth Pitch Selection Chart and Speed Selection Guide
Feed rate/chip insights
Chip load per tooth formula
Cutting pipes and profiles selection diagram
Technical Resources and Troubleshooting Guide
For more information on the BAHCO Industrial Metal Sawing Bandsaw Blades catalog, contact your Snap-on Industrial Brands or Snap-on Industrial sales representative; call (800) 446-7404; or visit www.snaponindustrialbrands.com.