Posted June 4, 2019
MAX USA CORP. unveils 2019 ad campaign
Innovative "What are you waiting for?" campaign pairs a teenager and MAX tools.
---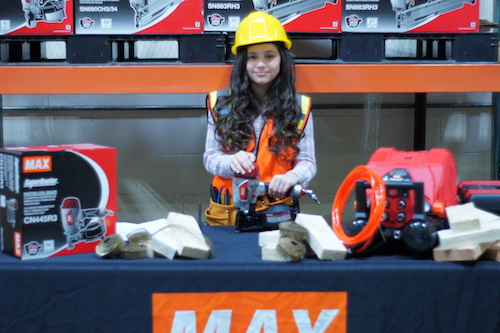 MAX USA Corp. makes a bold move as they unveil a new brand campaign titled "What are you waiting for?" The unconventional campaign features an adolescent girl, dressed as a construction worker, colorfully explaining the unique features of each tool.
The persuasive campaign depicts a fun-loving side to a very rugged industry. The ideas presented in each video provide a clear picture of the benefits of buying MAX tools, which leads into the tag line "What are you waiting for? Go out and buy a MAX tool today!".
"MAX is proud of the innovations and patented features crafted for each tool, by their team of over 200 R&D engineers. The MAX brand is focused on providing solutions for the problems end-users face on the job and we hope this campaign effectively depicts that," says Denene Williams, MAX USA Corp. Marketing Manager.
The first phase of the "What are you waiting for Campaign?" will tie into MAX's June/July tool promotions for roofing and framing nailers (For details visit: http://cloud.maxusaproducts.com/rooferframerrebate). The promotion offers a $20.00 rebate on the MAX CN445R3 roofing nailer, and the SN883RH3 and SN890CH3/34 framing nailers, to U.S.-based customers.
MAX USA CORP. is headquartered in Plainview, NY, and is owned by MAX CO., LTD., which is headquartered in Tokyo, Japan. MAX is recognized as a market leader in quality manufacturing of pneumatic nailing tools for over 75 years. MAX has several divisions employing more than 2,000 people worldwide including over 200 R&D engineers.