Posted June 10, 2019
Milwaukee Tool blows the doors out
At its 2019 New Product Symposium, Milwaukee Tool envisions a new world order for the tool industry.
---
In a twist on the phrase, "too big for your britches," Milwaukee Tool is outgrowing its facilities faster than it can build them. And the company's extraordinary run seems to have no end in sight. Laser-focused on new product innovation, the company is both remaining true to its core trades business model and expanding upon it at the same time. It is a monumental effort and is filling its facilities with energetic, youthful professionals to rise to the task.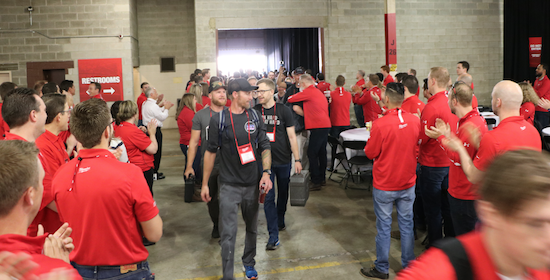 Last week, Milwaukee Tool hosted some 150 journalists, bloggers and social media influencers at its headquarters in Brookfield, Wisconsin for two days of tours and new product launches. The annual New Product Symposium (NPS) has become one of the industry's hottest tickets for its first looks at new and coming products across Milwaukee's core product categories.
This year's NPS19 began with an afternoon tour of Milwaukee's rapidly growing Brookfield campus. And campus is no stretch — Milwaukee now occupies three sizable buildings and is finishing another, every inch of which is already allocated. The new building is designed to allow a major extension, which is already in the planning stages.
"We are out of space already and we haven't even moved in," said Milwaukee president Steve Richman in his opening remarks.
Milwaukee employs more than 1,500 professionals in Brookfield. The interior spaces of the original Milwaukee headquarters have also been renovated, the centerpiece of which is a new hall of history which relates the company's 95 years of construction product development.
Richman also noted that Milwaukee is now doing $4 billion a year in sales and has grown 20 percent per year for the past 11 years.
The company will celebrate 100 years in 2024, an event which will surely resonate across the industry.
Milwaukee's mantra of "Disruptive Innovation" was on ample display in every product category, so let's get to it.
Core Category: Carpentry and Remodeling
This category sees major action with a new M18 FUEL 18-gauge Brad Nailer that feels great in the hand and delivers clean, consistent nail holes in a compact size and with zero ramp-up time. It is a lovely tool that is sure to become a go-to product. Click here for its specs.
Next is the debut of the highly-anticipated M18 FUEL 21- and 30-degree Framing Nailers. These imposing tools pack a serious cordless wallop — firing up to three nails per second. Click here for complete specs.
Coming next month (July 2019), the M18 FUEL 7 1/4-inch Rear Handle Circular Saw generates the power of a 15-amp corded saw and cuts faster than the leading corded units available in the industry. It also features the most run-time of any cordless rear handle circular saw — up 570 cuts in 2x4 per charge. See its specs here.
This August, the new M12 FUEL SURGE 1/4-inch Hex Hydraulic Driver will be the first 12V subcompact hydraulic driver in the market. Its FLUID-DRIVE Hydraulic Powertrain technology delivers 2X less noise and vibration and maintains peak torque longer than standard impact drivers. Find its specifications here.
Set for a September 2019 release, the compact M12 FUEL Installation Drill/Driver has four dedicated chucks for maximum versatility and tight-space reach and ample power — up to 300 inch-pounds of torque.
Due this October, the really nifty M18 FUEL Compact Router makes fast work of edge profiles in solid oak and feels sure-footed. Its macro and micro depth adjustments are simple and intuitive to use.
Also coming this October is the surprising M18 FUEL 9-inch Cut Off Saw with ONE-KEY. This saw cuts reinforced concrete, all common metals and weighs one-half the weight of most gas cut off saws. It's cordless power means no mixing fuel, no difficulty starting and no engine maintenance.
Coming this November is a gorgeous new M18 FUEL 12-pinch Dual Bevel Sliding Compound Miter Saw with ONE-KEY tracking capability. It is 15 percent lighter than corded competitors, is compatible with the entire M18 system and can make up to 330 cuts in 3 1/4-inch baseboard per charge.
Coming next February, a new M18 FUEL 1/4-inch 18-gauge Narrow Crown Stapler will drive staples up to 1 1/2 inches long into hard materials and soft layers without blowing through. This tool also features zero ramp up time, allowing users to more productively tackle the job.
Core Category: Layout and Measuring
This September will be a big month for measurement, with a fistful of new products, including:
STUD tape measures and STUD magnetic tape measures with up to 14 feet of standout and EXO360 Blade Technology which Milwaukee says makes them the longest-lasting blades that are both rip and wear resistant.
Wide Blade tape measures and Wide Blade magnetic tape measures, also with up to 14 feet of standout, an anti-tear blade coating that reinforces the first 6 inches of the blade, a Finger Stop feature for controlled blade retraction and double-sided printing.
New Compact tape measures that deliver up to 12 feet of standout, anti-tear blade coating for the first 6 inches and double sided printing.
A 4 1/2-inch Trim Square that fits easily into pockets and tight work spaces. It has high visibility laser etched markings that will not wear off and a dual measurement heel for quick marks.
A Pocket Level with amplified rare earth magnets for 2X the holding power of leading competitors and SHARPSITE Vial Technology for accurate, clear reading of level, 1/8- and 1/4-inch pitch in any position.
A Pipe Lock Level with best in-class 270-degrees of vial visibility.
On the Empire Level side of Milwaukee Street, digital levels are the hot ticket, with a new model em105.9 Auto-Calibrated Torpedo Level with oversized display for easy reading. With 6 measuring display modes, the digital torpedo can do the tasks of the standard torpedo, slope level and angle finder. For more versatility, inspect mode allows users to zero out the torpedo, which is ideal for conduit bending applications.
Also new are two Empire eXT Extendable Levels in 24-to-40 and 48-to-78-inch sizes. These levels allow users to get a perfect read in any application while reducing the number of levels that need to be carried on the job site.
Oh, and lest we forget to mention, join us in wishing Empire Level a happy 100 years of business in 2019.
Core Category: Tool Storage and Organization
Milwaukee's PACKOUT program continues to grow with the PACKOUT Dolly with smooth roll wheels, a capacity of up to 250 pounds and a QUICKSTOP Loading Lever that holds the Dolly in place for loading and unloading. Click here for its full specs.
A new PACKOUT Mounting Plate provides users the ability to stabilize and secure their PACKOUT storage in the shop or in a vehicle. It has metal reinforced mounting and tie-down points that allow it to support & secure 100 pounds of weight on the floor and 50 pounds on the wall. its specs are here.
The new PACKOUT Crate easily locks into the PACKOUT System on top of a PACKOUT Tool Box from a wall-mounted PACKOUT Mounting Plate. The crate has a 50-pound weight capacity.
New power tool accessory and PACKOUT Organizer Kits coming this year include a 10-piece HOLE DOZER Hole Saw PACKOUT kit, a 101-piece Impact Driver Bit Set and a 9-piece BIG HAWG with Carbide Teeth PACKOUT Kit.
However, the biggest noise in the PACKOUT system is easily the new M18 Radio + Charger with PACKOUT compatibility. A 10-speaker system provides users with 360° sound with the loudest volume and deepest bass that the job site has seen yet. This thumping new radio/charger accepts and charges all M18 batteries and stores mobile devices.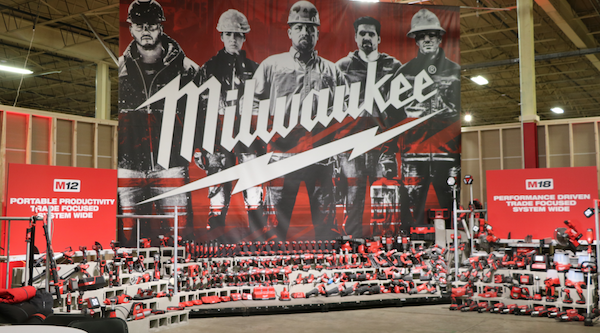 Core Category: Safety
Starting in September, Milwaukee will expand its line of gloves to include more cut-resistant and winter gloves, as well as new lines of leather and impact-rated gloves. With these additions, they will offer a full line of hand protection that provides best-in-class comfort, dexterity, and durability for a variety of job site applications.
Impact Demolition Gloves
Impact Resistant Gloves
High-Visibility Dipped Gloves
Leather Performance Gloves
Goatskin Gloves
Impact Demolition Gloves
Winter Gloves
Perhaps in a "nod" to this year's 100th anniversary of the hard hat, Milwaukee's new hard hats to adapt feature unique BOLT Hard Hat Accessories with an adaptable mount and six accessory slots that allow users to customize their hard hats for the job. A ratcheting suspension lets users quickly adjust their hard hat while in use. They're all type 1 and offered in both Class C and Class E, as well as full-brim and front-brim.
A new range of Safety Glasses feature anti-fog and anti-scratch lenses and flexible nose bridges for better fit. The new Performance Safety Glasses provide military-grade impact protection and fog-free lenses that are also anti-scratch. Finally, the Polarized Performance Safety Glasses w/ Gasket provide advanced protection and ultimate performance. These premium glasses have polarized lenses to reduce glare that are also fog-free. Built with military-grade impact protection, these glasses also have a removable gasket to protect against debris. Select pairs are also available with tinted lenses.
Milwaukee High Visibility Performance Safety Vests come complete with front pockets that are reinforced with 600D tear-resistant material for increased durability, including a rear zippered tablet pocket. Both the High Visibility Safety Vest and High Visibility Performance Safety Vest are offered in yellow and orange and are Type R Class 2 Rated.
New Respirators with and without gaskets allow users to stay cool. Both designs feature valves that reduce heat inside by 10 degrees F and have soft adjustable straps and nose bridges for a comfortable fit. The Valved Respirator with Gasket features a tight-sealing gasket for a more premium seal and better airflow.
Milwaukee Corded Ear Plugs are made of soft silicone; new regular Ear Plugs are made of soft comfortable foam. Both versions are designed with a tapered shape for a better fit. The Corded Ear Plugs are rated to an NRR of 26dB, and the regular Ear Plugs are rated to an NRR of 32dB.
All of the above safety products are scheduled for release this October. Set for release in November are new Double Length Locking Tool Lanyards that are twice the length of their current 36-inch locking tool lanyards. Offered in 10-, 15- and 35-pound capacities, these tool lanyards have double-locking carabiners, and unique color coding for easy identification even from a distance.
Core Category: Lighting
Three new headlamp lighting products coming in October include a USB Rechargeable 360° Vis Hard Hat Headlamp, a USB Rechargeable Low-Profile Headlamp and a Spot/Flood Headlamp.
The USB Rechargeable 360° Vis Hard Hat Headlamp is the first headlamp to provide high-quality task lighting with active personal safety lighting. It offers 600 lumens of TRUEVIEW High Definition Output with spot and flood beam options and — when used with the Red LED Light Band on the back — makes users visible up to 1/4 mile in all directions.
With only a 1-inch inch deep light head, the Milwaukee USB Rechargeable Low-Profile Headlamp delivers rechargeable performance fit for work in tight spaces. A removable crown strap and rear battery position provides balance and comfort for bare head use. Four hard hat clips combined with a thin light head provides reliable attachment while maintaining maximum visibility when wearing a hard hat forward or backwards.
Finally, The new Milwaukee Spot/Flood Headlamp gives user spot and flood functionality while maintaining a compact and lightweight design. With 450 lumens of TRUEVIEW High Definition Output, a 100-meter spot beam and five different modes, users can choose the best beam type, output or run time for the task at hand.
Coming in October, the M18 Utility Remote Control Search Light has the versatility for use on and off the bucket truck. Its magnetic base allows it to be used in alleys, yards or mounted directly to the vehicle. With 5,000 lumens of TRUEVIEW High Output light, it boasts a spot distance of more than 1250 yards for more visibility during night work. An easy-to-use joystick remote control provides users with more control for use while in an elevated bucket. It is rated for outdoor use with impact and vibration resistance.
Core Category: Power Tool Accessories
Milwaukee's new SHOCKWAVE MATRIX CARBIDE bits combine proprietary Matrix Carbide Steel and optimized Shockzone technology to deliver extreme wear resistance while still being able to absorb the peak torque of an impact driver. This revolutionary advancement in driver bit technology is backed with a Lifetime Tip Warranty. Click here for more details on the new SHOCKWAVE MATRIX CARBIDE bits.
The original SHOCKWAVE Impact Duty driver bits are now upgraded to extend bit life with a Custom ALLOY76 Steel for up to 50X more life and a new WEAR GUARD TIP to protect the fit over the life of the bit. Learn more here.
New SHOCKWAVE RED HELIX Cobalt and Titanium drill bits feature a new Quad Edge tip geometry that helps users drill holes faster and a Variable Helix flute geometry for faster material removal.
Milwaukee PLUS-LOK SDS Plus Extensions provide increased access in tough to reach areas and around obstructions. The extensions are universal, fitting all brands of SDS Plus rotary hammers and accessories including but not limited to drill bits, chisels, core bits, and anchor installation solutions. Due to their small profile design, the PLUS-LOK SDS Plus Extensions are ideal for drilling deep through-holes with drill bits 7/8 inches and larger. Click here for more details on the line.
Core Category: Plumbing & Mechanical
Available now, Milwaukee's M18 FUEL 4 1/2- to 6-inch Braking Grinders generate the power of 13-amp corded tools. Featuring a full 6" grinding capacity, these grinders include Rapid Stop to automatically stop all accessories in less than 3 seconds. Here are their official specs.
Coming in July, designed from the ground-up with an upgraded POWERSTATE Brushless Motor and optimized REDLINK PLUS electronics, the new M18 FUEL SUPER HAWG has the power to drill 6 1/4-inch holes through 6-inch beam at corded speed, as well as the run-time to complete single-home rough-ins. Click here for its complete specs.
Also in July, The M18 FUEL Pipe Threader w/ ONE-KEY aims to deliver unprecedented control for the user. With AUTOSTOP technology, which senses severe kickback and automatically shuts the tool off, a dedicated support arm to hold the tool stationary during threading, and an integrated die head lock that enables side-grip thread starts, this new tool provides a threading experience unmatched by corded. Click here for its specifications.
Due in October, Milwaukee TORQUE LOCK locking tools provide faster tool setup and more locking force. The innovative thumb screw with a unique screwdriver through-hole function provides users with a more convenient geometry for hand force, while providing clearance to generate more torque.
This November, Milwaukee will launch the M18 FUEL Sewer Sectional Machine w/ CABLE DRIVE. The tool's CABLE DRIVE technology provides the first Automatic Feed and Retract solution within sectional machines designed to reduce user strain when pulling back the cable from the pipe.
As extensive as this review has been, it still misses several major product categories. Watch Contractor Supply's pages and website for more announcements as the year progresses. CS