Posted July 1, 2019
Report: Almost 60 Percent of the U.S. Construction Project Pipeline Value is Concentrated in 10 States
California leads the country with1,302 projects worth $524.6 billion.
---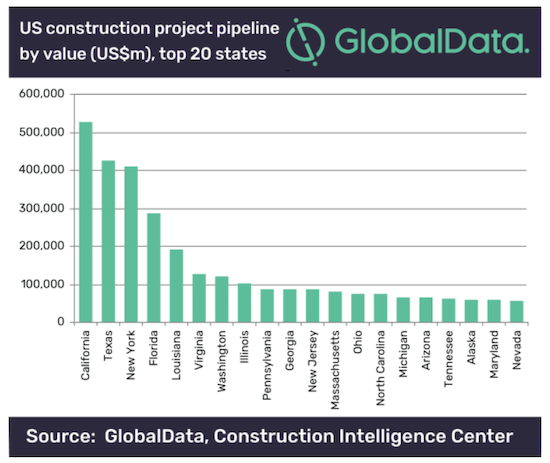 The US construction industry is a major contributor to the economy, accounting for 4.1% of gross domestic product (GDP) and employing 5.3% of the country's total workforce. With annual expenditure reaching over US$1.4 trillion last year, the industry is one of the largest in the world. In 2018, output grew by 4.4% in real gross terms – up from 3.4% in 2017, according to the Bureau of Economic Analysis (BEA).
Recent corporate tax cuts together with state and local government efforts to raise revenues for public works has driven this growth. Among the largest states currently experiencing fast construction growth are Florida, Georgia and Washington, with annual average rates of 9.9%, 8.7% and 6% respectively over the past five years.
GlobalData is tracking 11,208 construction projects in the US, both in the public and private sector, at all stages of development from announcement to execution; collectively, these projects are valued at US$3.7 trillion. The top 10 selected US states account for nearly 60% of the entire US construction market.
Key Highlights
With a total of 1,302 projects worth US$524.6 billion, California has both the largest number and value of projects in the US construction project pipeline. California is home to more megaprojects than any other states in the US, with its top 10 largest projects valued at US$139.5 billion. Six of these are transport infrastructure projects and two are energy and utilities projects. Topping the list is the US$79 billion California High-Speed Rail Line, the largest project in the US construction pipeline.
Thanks to its dominance in the US energy sector, Texas has the highest number and value of energy and utilities projects in the US construction project pipeline.
GlobalData is tracking 1,034 projects in the state with a total value of US$425.1 billion. Energy and utilities projects dominate with a value of US$152.7 billion, followed by mixed-used developments and infrastructure projects with values of US$67.9 billion and US$67.1 billion respectively.
GlobalData is tracking 894 projects in New York with a total value of US$409 billion, of which 63% of the value are in the pre-execution and execution stages as of May 2019.
Of the total number of projects tracked by GlobalData in Washington, 89 are residential buildings, 72 are commercial and leisure and 83 are mixed-use developments. Some of these projects are related to Amazon, Microsoft or Google or the expansion thereof, meaning office buildings and apartment buildings to house their workers. Microsoft, for example, is currently undertaking the redevelopment of its headquarters building in Washington. The project is costing US$1 billion, and is set to start this year.
Among the major contractors building large construction projects in Illinois are Jacobs, Arcadis and Ardmore Roderick, which were awarded the construction contract to complete the US$4.7 billion Red and Purple Lines Modernization in Chicago while Thyssen-Krupp Industrial Solutions was selected to build the Tuscola Fertilizer Plant.
Scope
This report focuses on 10 key states in the US, which are significant in terms of the overall size of the economy, construction output and construction employment, as well as having sizeable construction project pipelines.
The report provides an assessment of the current construction project pipeline by the 10 key selected states based on the CIC project database including analysis on total construction pipeline by sector and stage, projected annual spending on current project pipeline by funding method over the five-year span, as well as analysis on all major projects by value, start and end date, stage of development, funding mechanism, and leading contractors.
Click here to learn how to purchase the full report.