Posted July 2, 2019
Jeff Durgin Becomes Flooring Director for Makinex
Durgin will lead the company's mission in the rapidly growing flooring industry.
---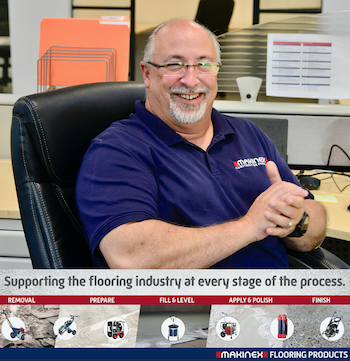 Jeff Durgin joined the Makinex Team as the as Global Product Manager back in February of 2018 and has now transitioned into the North American Flooring Director position.
Makinex is excited to have Jeff take over this new role that was crafted out of this rapidly growing industry within Makinex. His profound knowledge of the flooring industry along with his deep passion for continually finding ways to improve things directly aligns with the Makinex mission: Making Inefficiencies Extinct.
With Jeff's new position, Makinex will be able to continue making an impact within the flooring industry and ultimately support this growth with a team of his own. Makinex plans to uphold their strong track record of launching revolutionary, innovative, quality products and this year will be launching one especially for the flooring industry.
General Manager, Peter Maginnis says, "It has been such an expansive last year here at Makinex and we are incredibly excited to have a master in the flooring realm transitioning over to drive our force in the flooring industry. With the launching of new POWERful product early next year, we will need Jeff to take on the demand the flooring industry will have with Makinex."
If you are in the flooring industry and would like to know more about Makinex and our products, please reach out to Jeff at J.Durgin@Makinex.com.