Posted August 5, 2019
1Shot Steel Stud Anchor signs four regional rep groups
Company seeks more rep groups and will exhibit at the STAFDA Show in Nashville.
---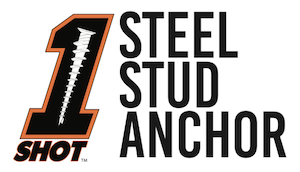 1Shot Steel Stud Anchor announces that it has signed four initial manufacturer's rep groups to represent its new product across the United States.
"1Shot Steel Stud Anchor has been extremely successful in the U.S. fastener industry since our January launch, and we are excited to announce that we have recently partnered with four professional Representative Agencies in the U.S.," says Greg Gillespie, Business Development Manager.
1Shot's initial rep groups include:
• Pacific Warehouse Sales (PWS) located in Chino, CA, who is a 1Shot stocking representative covering CA, NV, AZ, UT, New Mexico and Hawaii. Reach them at: (909) 287-7750, or sales@pacificwarehousesales.com
• Marty Nolan with R. L. English Co., who covers Ohio, Western PA, Michigan, Kentucky and West Virginia. Reach them at: (440) 878-1040, or m.nolan@prodigy.net
• The Smith Associates Group located in Hopatcong, NJ, covering New England, Metro New York, New Jersey, Eastern Pennsylvania, Delaware, Maryland and Virginia. Reach them at: (973) 810-2900, or smithfast@aol.com
• Atlas Industry Marketing located in Burleson, TX and who cover TX, OK, AR and Louisiana. Reach them at: (817) 447-1750, or at contact@atlas-im.com
"We introduced the World's first Steel Stud Anchor to the U.S. market in January, and now have large inventories located in both Jacksonville, FL and Chino, CA, as well as our now four Representative Partners (we will be adding additional Representatives over the coming months)," Gillespie says.
"We market and sell our 1Shot Steel Stud Anchors through and to fastener industry distributors only, and do not sell direct to contractors or installers."
"We are also a proud Associate Member with STAFDA, and will exhibit at the coming November Convention and Trade Show introducing our product to the Fastener Industry!"
Please visit the website to view several product use videos and FAQ's at: www.steelstudanchor.com