Posted October 1, 2019
Starrett will feature newest recip blades and hole saws at STAFDA 2019
Company will display full range of hand tools and saw blades in booth 1016-1018.
---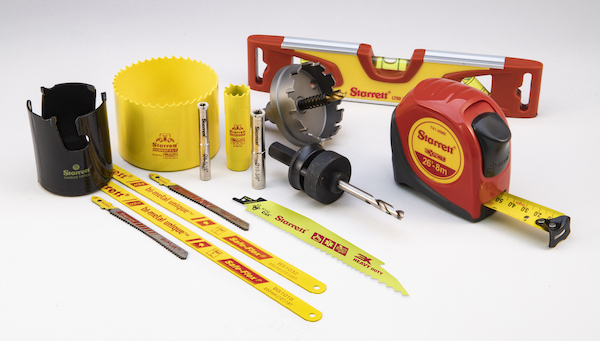 The L.S. Starrett Co., a leading global manufacturer of precision hand tools and gages, power tool accessories, saw blades, and more, will be showing its jobsite products at STAFDA 2019 in Starrett Booth No. 1016-1018, located in Music City Center, Nashville, TN, November 10-12.
STAFDA attendees can see the latest Starrett power tool accessories including several new saw products.
Starrett will be previewing a new Line of Bi-Metal Reciprocating Saw Blades featuring a new tip and tooth design, resulting in three times more performance than previous versions. Offering more efficiency and durability, the new "3X" reciprocating blades are also highly resistant to breakage, and provide increased cutting accuracy, including in hard-to-reach places.
A range of 3X blades are available for various applications including multi-purpose, wood, metal and King Cut rescue and demolition blades for heavy duty cutting.
Pallet dismantling and specialty reciprocating blades for scroll, plaster and carbide cutting as well as pneumatic blades are also available with bi-metal unique technology.
Starrett will also feature a new, improved version of the popular Starrett Deep Cut Bi-Metal Hole Saws at STAFDA this year. The new hole saws have a variable pitch tooth design featuring a pattern of seven different progressive teeth called NVP Tech (New Variable Pitch). This new tooth pattern, along with a special tooth set developed specifically for it, delivers fast, aggressive cutting action, enabling more cuts in less time.
The new Deep Cut hole saws also produce a smooth cutting action, resulting in easier operation. Starrett Deep Cut Hole Saws are designed specifically for cutting thicker material and feature a high performance tooth material with extra Cobalt for enhanced heat and wear resistance.
These saws have a hole saw depth of 2 inches (51mm) and are ideal for cutting metal or tubes with a wall thickness of more than 1/8 inch (3mm). For multi-purpose use, the aggressive tooth design cuts a wide range of materials including wood, carbon steel, stainless steel and non-ferrous metals. Starrett Deep Cut Hole Saws are used for cutting different shapes, sheets, profiles and tubes.
Starrett offers a wide range of Hole Saws from bi-metal and carbide tipped to diamond grit application-specific Hole Saws that are engineered specifically for certain materials, power tools and jobs.
Starrett also offers a complete line of Jig Saws and Hacksaw Frames and Blades. A wide range of Professional Contractor Hand Tools from Starrett will also be on display at STAFDA such as utility knives, combination squares and protractors, slide calipers, gages, pocket scribers, nippers and screwdrivers.
Also, the latest long and short line measuring tapes and Measure Stix, a variety of layout tools, levels, chalk boxes and M1 industrial lubricant will be on hand.
For more information, contact The L.S. Starrett Company, 121 Crescent Street, Athol, MA 01331 U.S.A. Telephone: (978) 249-3551, Fax: (978) 249-8495, email: general@starrett.com, internet: www.starrett.com.