Posted October 9, 2019
Intercorp launches wholesale web store
New web store streamlines order process and speeds shipments.
---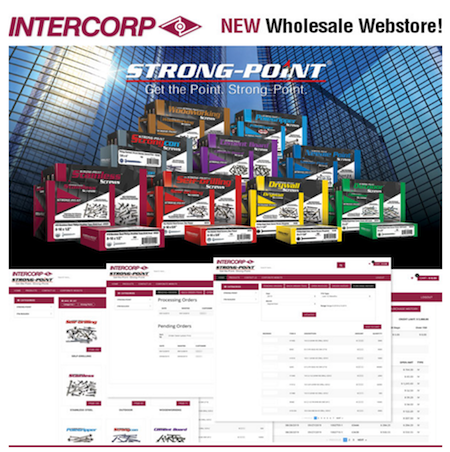 It's 6:30 PM. You've got a pile of quotes and orders you need to get out and your vendors are gone for the day. You need pricing, you need availability, you need to place orders, and you need to do it now!
That's not too much to ask, right? Good News! All of these needs are now value-added services available to you within Intercorp's New Wholesale Webstore.
The webstore can provide you the pricing and ordering capabilities you need in seconds, and a whole lot more, 24/7. The webstore is fully integrated with Intercorp's ERP software, allowing our distributors the following benefits:
• View live wholesale pricing on all Strong-Point products and ITW CCNA products
• Full e-commerce capabilities for placing orders on your account
• View pending orders
• View open invoices
• View order history, including all transactions prior to using the webstore
• Order status and tracking capabilities
• Create wish lists
• Download technical documentation including submittals
Our webstore is an efficient e-commerce experience with its perceptive search and query process, lightning fast response time, and quick check-out process. The interface is simple, yet extremely powerful. As a valued distributor, you will be impressed by how much faster you can get real-time wholesale pricing via the webstore compared to placing a phone call or typing an e-mail.
Intercorp's intuitive webstore was created to give our distributors the tools to research, order and ship the fasteners they need within seconds of logging in. Providing them an advantage over their competition by allowing access to information you normally wouldn't have easy access to. By using our webstore our distributors get pricing, availability, technical documentation, and merchandise faster than ever before!
Quick, informative and intuitive. Our webstore design accomplishes this by:
• Avoiding visual clutter
• Simplified menus
• Wish list creation for certain customers and projects
• Access to our knowledgeable staff when you need personal interaction
Perhaps Intercorp's greatest advantage for distributors is our 30 years of servicing the fastener industry. We've built our reputation on quality and service over those years, and the design of our webstore placed those attributes at the forefront and is solely focused on your needs as a distributor.
In today's competitive marketplace, distributors need real-time product information and better sales support to be at their best. Our webstore provides that solution to help distributors boost sales, enact marketing effectiveness, and assist in operational efficiencies. Our webstore is a system that combines extensive product data and support for critical sales processes. It's built to deliver compelling benefits you'll find irreplaceable!
If you're already an Intercorp Strong-Point distributor, contact your Sales Representative so we can get you set up and running with our value-added webstore. This is a private webstore and not available to anyone other than Intercorp's exclusive distributors of our Strong-Point products. If you're not familiar with Intercorp and would like to experience the quality of our products and the outstanding services we provide, give us a call (800-762-2004) or email us at ( info@intercorpusa.com). Once you become part of our family, you can have access to this amazing webstore tool as well.