Posted December 4, 2019
Hoffmann Group USA's GARANT brand wins six German design awards
GARANT products have won 44 design awards over the past 12 years.
---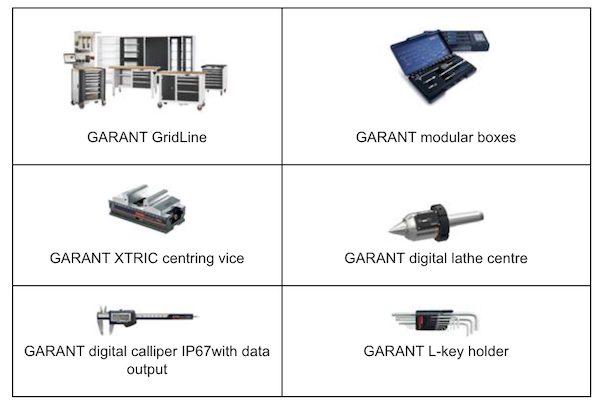 The outstanding design quality and functionality of the GARANT brand from Hoffmann Group USA proved itself once again at the German Design Awards 2020. Six products won the prestigious "Excellent Product Design – Workshop and Tools" award. The GARANT GridLine workstation and storage series, modular boxes, XTRIC multi-function vice, L-key holder, digital caliper IP67 with data output and the brand-new lathe center with digital pressure indicator were all honored.
To date, products from the GARANT brand have received a total of 44 design awards for their functional, ergonomic and attractive designs over the past twelve years.
The GARANT GridLine workstations and storage series impressed at the German Design Awards 2020 with a modern and clear design. The matt metal surfaces of the roller cabinets, workbenches, workstations and workshop cabinets (which are all part of the series) give an impression of high quality according to the jury. The modular system character, which has been well-designed throughout, also stood out.
All GARANT GridLine elements are designed according to a uniform measurement grid and can be combined in a versatile manner. This is an advantage in terms of flexibility for workshop equipment. GARANT modular boxes were also award winning, and they fit perfectly into the GridLine grid system. They are well-planned in terms of functionality and flexibility.
The GARANT XTRIC multi-function vice with chuck jaw quick-change system captured accolades as well. In the opinion of the jury, the state-of-the-art technical design clearly reflected high standards in terms of precision, robustness and innovation. The top jaws can be exchanged or rotated in seconds with repetition accuracy according to the "click & clamp" principle, in order to adjust the clamping range. There is no need for pre-stamping of the workpieces.
The rotating lathe center with digital pressure indicator from GARANT was also among the winners. The jury rated the integrated OLED display and the independent power supply as outstanding: the display can be read conveniently in real time during the machining process; the power supply is provided via an integrated generator driven by a rotating tip (energy harvesting). This means that batteries and cables are redundant. The lathe center is highly precise, durable and equipped with maintenance-free lifetime lubrication.
And rounding the achievements out, the compact GARANT L-key holder and the GARANT digital caliper IP67 with data output also won awards. The latter stood out due to its clear lines and a simplicity; giving it an elegant and high-quality aesthetic, which clearly communicates the high standards in terms of quality and precision.
You can find all the tools and more at the Hoffmann Group USA eShop located here: www.hoffmann-group.com/US/en/hus/