Posted January 2, 2020
Exclusive: How construction businesses can leapfrog industry giants with integrated BIM
Building Information Modeling can help adroit contractors and suppliers outperform larger competitors who rely on older, less integrated ERP systems.
---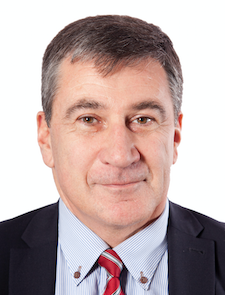 The end goal of building information modeling (BIM) is essentially to provide better information management, which gives project owners a structured set of data they can use to manage a built asset over its lifecycle. But for BIM to deliver on this promise, data must be allowed to flow effortlessly into physical asset management processes, something that traditional ERP solutions with their roots in human resources and finance find impossible to enable.
Kenny Ingram, Global Industry Director for Engineering, Construction, and Infrastructure for IFS, explains how contractors running modern software applications can reap the business benefits of BIM and challenge much larger competitors using more antiquated systems and processes.
The term BIM could be considered misleading. It does not only apply to buildings, but is used for industrial installations and infrastructure—essential for any capital asset. BIM is not just about modeling data in a computer-aided design (CAD) tool. The key to the success of BIM is that design software is data-driven rather than document-driven to allow structured asset information to flow directly into the systems used to build and manage it.
And equally important, asset data must be structured and well organized—from proposal requests to the contracts, and from design revisions down to serial numbers on each piece of capital equipment.
This is not possible if a contractor is only running finance or human resources software from their ERP provider. They won't have full visibility of financial and operational management project tools—leaving the asset data with nowhere to go.
Out goes Excel – in comes 3D Model data
Construction in an age of BIM requires contractors to use 3D Model data from tools, such as Revit, and integrate the asset data model into a construction-centric ERP tool. This takes the "as designed asset structure" and pushes it through all stages of the project execution process, resulting in an "as built and maintained" structure. This can be achieved without the need for manual data manipulation or use of Excel.
Construction ERP can modify and interact with 3D Model data, automating the creation of a unified data model that can be used during construction, commissioning, years of operation and maintenance, and eventual decommissioning and replacement. The key for construction businesses is to integrate effective software that is structured to allow the BIM data from their chosen design tools to flow seamlessly into physical asset management processes.
Flexible ERP is a necessity
BIM requirements may differ by project, so ERP solutions must be flexible to accommodate various needs. It is essential that construction ERP can properly collect and retain all the information needed to fill in the portions of the asset record during the materials procurement, construction, commissioning, operation and maintenance phases.
This includes information generated by subcontractors, material testing services and equipment vendors, as well as lot and batch information and serial traceability where required. This process demands that all information about a built asset is considered a critical part of the value delivered to the project owner, and it should be provided in a structured and useful format that helps them make the right decisions and get the most value out of their investment.
Better management of change orders & aftermarket opportunities
Better information management offers more than just the ability to comply with government and project owner mandates associated with BIM. BIM is known to help eliminate change orders further down in a project because it makes it easier to identify incompatibilities or conflicts between elements handled by different trades and disciplines. Easily accessed BIM data supports contractors as they transition into offsite or modular construction, while opening the door to aftermarket services such as facilities management contracts. This work can provide a higher margin than initial construction projects, and evens out the lumpy revenue contractors often experience.
Sink or swim with BIM
Regardless of the size of a construction business, if its ERP system only has the capability to run finance or maybe human resources software, these contractors will find themselves being left behind by competitors that have implemented the latest applications that can meet the responsibilities of their BIM contract.
BIM can provide project owners with the data they need to effectively manage the lifecycle of assets—but only if their construction ERP is sophisticated enough to let BIM data flow into physical asset management processes. If an ERP solution fails to achieve this, data becomes worthless and construction businesses will miss out on the key advantages of BIM. CS
Kenny Ingram is Global industry Director, Engineering, Construction & Infrastructure for IFS in construction, contracting, engineering, infrastructure and shipbuilding. In addition, he is heavily involved in other project and asset lifecycle industries including oil and gas, energy, utilities, and defense.
Kenny's main responsibilities are to promote the IFS solution to the external marketplace and to educate the IFS workforce on the business issues and challenges these industries face. He is also a key member of the IFS Product Direction Board who are responsible for making decisions on the IFS product strategy.
Kenny has been with IFS for 16 years and has worked in the business systems marketplace for over 20 years. He is now regarded as one of the top specialists in project-based business systems and has been heavily involved in driving the IFS strategy in this area for the last 16 years.
For more information, visit www.ifsworld.com.