Posted January 10, 2020
Intercorp releases new Strong-Point and Strongcon catalog
Seventh edition features more than 50 new fastening products.
---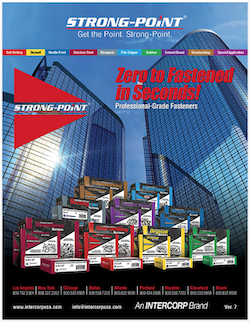 Intercorp, an importer and master distributor of professional-grade construction fasteners under the Strong-Point and Strongcon brands, is pleased to announce the release of our new product catalog, which includes over 50 new fastening products.
Download a digital version of the new product catalog from the link here.
If you prefer a hard copy, please contact us at any of our nine locations.
Los Angeles, 800-762-2004
New York, 888-322-2262
Chicago, 800-533-9669
Dallas, 800-558-7222
Atlanta, 800-822-9690
Portland, 800-434-5606
Houston, 800-558-7222
Cleveland, 800-553-9669
MIami, 800-822-9690
You may also request a copy at: info@intercorpusa.com.
Founded in 1988, Intercorp has established itself as an industry leader in the fastener distribution business. Our flagship brand, Strong-Point, is sold by thousands of distributors to construction professionals throughout the United States. The brand consists of a variety of professional-grade fasteners including: Self-Drilling, Needle Point, Woodworking, Stainless Steel, Drywall, Post Frame, Outdoor, Concrete, and Cement Board screws. With an outstanding reputation for customer service, quick delivery, and superior support for the distribution channel, Intercorp is unmatched when it comes to high-quality fasteners. Call us today to learn more!