Posted July 29, 2020
Sena Technologies targets industrial sectors with new marketing initiative and website
Company brings motorsports-proven technologies to construction and industrial environments.
---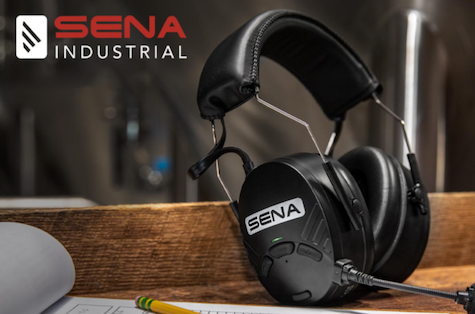 Sena Technologies, Inc., a leader in advanced wireless communications for team work environments, has launched a new marketing initiative with a newly developed website for
industrial applications of its solutions after having early success in food processing, construction and power plant operations and other industrial sectors.
With its roots in powersports where it has perfected its communications solutions in rugged and demanding team environments, www.senaindustrial.com brings Sena's over 20 years of experience and expertise to industrial sectors such as construction, manufacturing, outdoor maintenance, and warehousing and supply chain.
"We are beginning to see demand for our communications solutions in industrial markets because they are proven and trusted, easy to use and deploy, reliable and efficient and offer secure and safe operation," said Tae Kim, Sena CEO. "We are overwhelmed by the response to our solutions in these markets as we offer high quality solutions at the best value on the market."
No matter what the work environment, Sena Industrial solutions address peer-to-peer and wireless team communications in manufacturing, construction, outdoor maintenance, and other industrial work settings. Sena's solutions are proven and trusted, easy to use and deploy, reliable and efficient, and offer secure and safe operation. Sena's diverse product line can be configured to offer the right solution for the task at hand in any size group or setting regardless of the noise levels or general operation of the workplace or worksite.
Smaller, Less Demanding Applications -- Bluetooth and Mesh intercom products that offer comfort and flexibility in lighter industrial settings.
Greater Functionality with Comfort -- General purpose headsets with full group capabilities.
Rugged, Hearing Protection Environments -- Communications headsets with hearing protection in more demanding and loud environments
Ability to Expand and Integrate -- Mesh and Bluetooth converters to provide broader coverage and to work with non-Sena headsets or smartphones and tablet PCs
"We are seeing great demand for our industrial products," said Tae Kim, Sena CEO. "That is because not only does our technology offer high performance and great reliability, but Sena delivers superior performance at the best value in the sector."
For more information or to request a demo or trial, contact Sena Industrial at https://senaindustrial.com/pages/contact-request.