Posted August 19, 2020
Case Studies: Weitz Data Center construction continues with new worker safety measures
MākuSafe and The Weitz Company partner to use data to promote workplace safety, COVID-19 protective measures.
---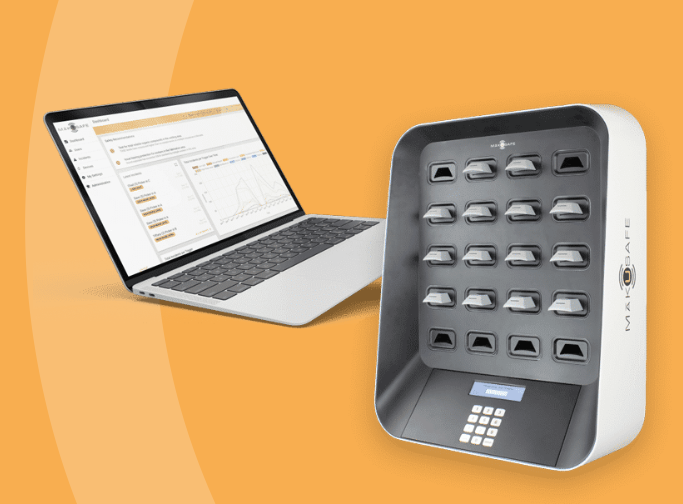 As construction continues on a data center project in Central Iowa, The Weitz Company is using new technology to help protect workers from hazards.
MākuSafe, a safety technology and data analytics company located in West Des Moines, is equipping workers with wearable safety devices that record data to help safety managers predict and correct potential hazardous issues—including implementing measures to help manage concerns related to COVID-19.
MākuSafe was founded in 2016 with a mission to improve workplace safety using actionable data. Since then, the company has continued to develop their workforce wearable technology and data dashboard, called MākuSmart, to meet evolving safety needs.
Now, their proprietary SaaS platform is helping construction crews safely complete one of the largest data centers in the country.
"It's incredibly important to keep workers safe on projects like these, especially as they continue their essential work during the ongoing COVID-19 pandemic," said Gabe Glynn, co-founder and CEO of MākuSafe. "We understand the power of data and are happy to be part of such an important project in our community."
With more than one million square feet of space to be built, the project is ongoing.
"The health and safety of our workers is our top priority on every project we complete," said Aaron Anderson, Safety Director at The Weitz Company. "MākuSafe offers us a way to collect and use data to protect our workers every step of the way. Weitz is proud to be the first construction company to implement MākuSafe on a construction site."
Construction on the site is expected to continue through 2022. As workers wear their devices, additional health and safety measures will be taken—if needed—based on the data collected.
Within two months the initial pilot was expanded to cover five times as many workers here in Des Moines. They also plan to expand to other project across the nation in months to come.
"We're really interested in how this technology will help us keep workers safe as we complete this build," said Greg Martin, Weitz Project Executive. "It's great to have this data so we can keep things moving with health and safety as a top priority."
MākuSafe continues to operate with worker privacy in mind. No personal data is collected from workers. Instead, the device collects data about their environment and allows workers to record near-miss incidents to help enhance decision making for safety and operations leaders.
MākuSafe officially launched their platform and wearable devices in early 2020. Pilot programs conducted across the Midwest in 2019 showed customers a promising return on investment. To learn more about this technology, visit www.MakuSafe.com.