Posted August 28, 2020
Simpson Strong-Tie donates $25,000 to American Red Cross to support fire relief in California
Over one million acres of land have burned since August 15.
---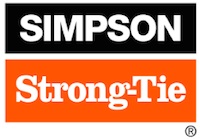 As fires continue to rage across the state of California, Simpson Strong-Tie, the leader in engineered structural connectors and building solutions, announced it has made a $25,000 donation to the American Red Cross to assist in relief response and recovery efforts throughout the region.
According to the state's firefighting agency, Cal Fire, over a million acres of land have burned since August 15. The LNU and SCU Lightning Complex fires have become the second- and third-largest fires in state history. More than 14,000 firefighters, with more enlisted from out of state, have been battling the blazes which have thus far left seven people dead and more injured. Approximately 100,000 people have been displaced.
"With our headquarters in the heart of Northern California, we are experiencing first-hand the effects of these devastating fires," said Simpson Strong-Tie CEO Karen Colonias. "We will continue to look for ways to help our community, and are grateful for our ability to support relief and recovery for those immediately affected through this donation to the American Red Cross."
To make a contribution and aid in disaster recovery efforts through the American Red Cross, visit redcross.org or send a donation to your local Red Cross chapter.
About Simpson Strong-Tie Company Inc.
For more than 60 years, Simpson Strong-Tie has dedicated itself to creating structural solutions and technology to help people design and build safer, stronger homes and buildings. Considered an industry leader in structural systems research, testing and innovation, Simpson Strong-Tie works closely with construction professionals to provide code-listed, field-tested products and value-engineered solutions.
Simpson's engineered structural products and solutions are recognized for helping structures resist high winds, hurricanes and seismic forces. They include structural connectors, fasteners, fastening systems, lateral-force-resisting systems, anchors, software solutions, and product solutions for repairing, protecting and strengthening concrete. From product development and testing to training and engineering and field support, Simpson Strong-Tie is highly committed to our customers' success.
For more information, visit strongtie.com.