Posted September 9, 2020
Makinex hires Joe Cardenas to manage West Coast business development
Flooring expert will building Makinex business from Colorado to Hawaii.
---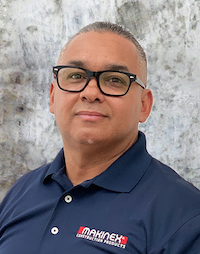 In this time of uncertainty with this global pandemic, Makinex is certain about one thing, and that is the addition to their growing Business Development team with Joe Cardenas.
Joe will be in charge of the West Coast region of the United States; that includes his home state of California along with Oregon, Washington, Idaho, Montana, Wyoming, Utah, Nevada, Colorado, Arizona, Hawaii, and Alaska.
Joe has worked in the flooring industry for most of his career and most recently was at GranQuartz.
"I am very excited to bring on the newest member of our highly skilled Business Development Team, Joe Cardenas! With over 15 years of sales and flooring experience, Joe's knowledge and expertise will help further develop and improve our continued support of customers & sales for Makinex." – Bill Marshall, Vice President of Sales and Marketing.
To reach Joe, please email J.Cardenas@Makinex.com or call him at 1-818-635-4639.