Posted September 16, 2020
Exclusive: How the MAX TwinTier is helping transportation construction during COVID-19
MAX tools are helping infrastructure projects move along more quickly and more safely.
---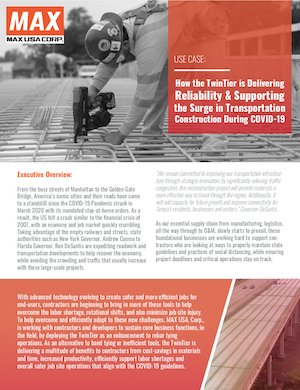 From the busy streets of Manhattan to the Golden Gate Bridge, America's iconic cities and their roads have come to a standstill since the COVID-19 Pandemic struck in March 2020 with its mandated stay-at-home orders. As a result, the US felt a crash similar to the financial crisis of 2007, with an economy and job market quickly crumbling.
Taking advantage of the empty railways and streets, state authorities such as New York Governor, Andrew Cuomo to Florida Governor, Ron DeSantis are expediting roadwork and transportation developments to help recover the economy, while avoiding the crowding and traffic that usually increase with these large-scale projects.
With advanced technology evolving to create safer and more efficient jobs for end-users, contractors are beginning to bring in more of these tools to help overcome the labor shortage, rotational shifts, and also minimize job site injury.
To help overcome and efficiently adapt to these new challenges, MAX USA, Corp., is working with contractors and developers to sustain core business functions, in the field, by deploying the TwinTier as an enhancement to rebar tying operations. As an alternative to hand tying or inefficient tools, the TwinTier is delivering a multitude of benefits to contractors from cost-savings in materials and time, increased productivity, efficiently support labor shortages and overall safer job site operations that align with the COVID-19 guidelines.
Click here to download the entire paper from MAX USA, and visit www.MAXUSAcorp.com to learn more about MAX tools.