Posted September 30, 2020
Report: Aggregates industry displays signs of recovery
Capstone Headwaters report shows uptick in construction spending in and robust backlog of demand.
---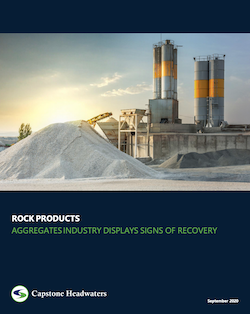 Capstone Headwaters released its Rock Products update today, reporting that following four consecutive months of decline in construction spending, activity has begun to stabilize with July construction increasing a modest 0.1%, according to the U.S. Census Bureau.
While tighter project financing conditions and weakened state and local government finances have presented challenges for aggregates producers, the backlog of activity has remained robust, supporting continued industry demand.
"The Aggregates Industry has bounced off the bottom and should experience meaningful growth for the next several years," said Darin Good, Managing Director.
Merger and acquisition (M&A) activity has slowed through year-to-date (YTD) 2020, with 47 transactions announced or completed compared to 89 transactions in YTD 2019. While volume declined significantly from April through June, buyers have begun to reengage in inorganic growth to bolster product lines and core competencies.
To access the full Rock Products report, click here.