Posted November 3, 2020
Point of Rental announces nonprofit arm Point the Way
Built to organize employee giving, nonprofit expands sharing opportunities.
---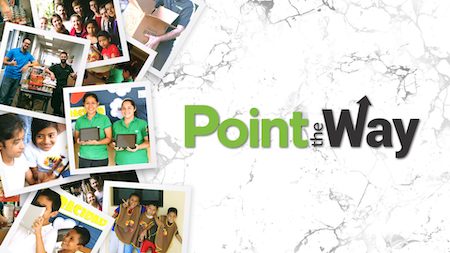 Point the Way, Point of Rental's employee-led giving organization, is now an officially-recognized 501(c)3 organization.
With the nonprofit designation, Point the Way takes the next step in the company's mission to make a difference by empowering people to reach their full potential. Created in 2018 by a group of employees to organize the Fort Worth location's giving for maximum effect, its mission has expanded to include giving throughout the company's worldwide offices and alongside other rental businesses.
"Point of Rental, and the rental industry as a whole, is full of people who care, and who want to make an impact in people's lives," said Director of Philanthropy Terry Harris. "By becoming a 501(c)3, we'll be in a better position to help in a more focused, effective way."
Over the past several years, Point the Way has made donations of technology, including laptops for an orphanage in Kenya and tablets for classrooms in Guatemala. Point of Rental has matched donations to employee initiatives to provide wildfire relief efforts in Australia, support equal justice in the United States, and aid in South Africa.
As a nonprofit entity, Point the Way will look to build on these efforts, along with local community-focused works like providing emergency kits to understocked homeless shelters, replenishing local food banks, and supporting initiatives that help teachers in local schools.
To find out more about Point the Way, and Point of Rental's commitment to building better relationships and communities, visit https://www.point-of-rental.com/company/epic/caring/.