Posted January 6, 2021
Regal introduces Real World Solution video series
Episodes show how customers successfully resolved costly power transmission problems with Regal products.
---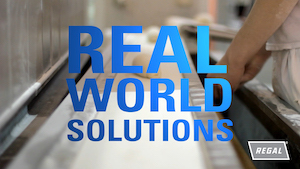 Regal Beloit Corporation, a leading manufacturer of electric motors, electrical motion controls, power generation and power transmission components, today announced the introduction of their Real World Solution video series.
The series, produced by the Regal Power Transmission Solutions team, contains under two-minute videos featuring real-world solutions in applications using Regal product(s). Regal helps customers solve everyday problems and, by doing so, demonstrates how those customers achieved a significant cost savings or revenue enhancement. Regal has saved end customers over $25 million in the last 18 months by reducing downtime, increasing line productivity and extending component life. This video series will highlight some of these solutions, along with the documented cost savings.
"It can be a real challenge for companies to try to achieve their productivity goals while dealing with unplanned maintenance or unexpected downtime," said Dawn Williams, marketing specialist, Regal. "For decades, we have helped countless customers fight downtime and save money in a broad range of industries in some of the toughest applications. Our goal with this video series is to bring these best practices to life in an easily digestible format so other companies can seek similar benefits by utilizing the techniques seen in these videos."
Some of the videos featured include:
A distribution warehouse that saves over $300,000 annually with a gear drive solution that decreased downtime, increased efficiency and consolidated inventory and labor costs.
A starch plant that saves $48,000 annually with a gear drive solution by standardizing gearing and consolidating inventory.
A brewery that saves $30,000 annually with a bearing solution on their bottling and canning line.
The video library will continue to grow with future episodes featuring different industries and applications.
For more information on the Real World Solution video series, please visit www.regalbeloit.com/solutions/real-world-solutions.