Posted January 12, 2021
Simpson Strong-Tie scholarship applications now open
Simpson gives up to 100 scholarships of $2,000 per student every academic year.
---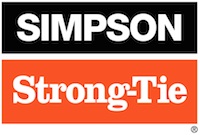 Simpson Strong-Tie, the leader in engineered structural connectors and building solutions, announced the opening of the application window for its Student Scholarship Program. The online scholarship application for the 2021–2022 academic year is now available to students in participating universities at strongtie.com/scholarships.
The deadline to apply is March 15, 2021. Awards are for undergraduate study only (junior and senior years) in civil/structural engineering, architecture and construction management.
The Simpson Strong-Tie® Student Scholarship Program supports education and encourages the design and building of safer structures in our communities by assisting university students in meeting their education costs. Up to 100 scholarships of $2,000 per recipient are awarded every academic year to university students from more than 100 participating schools.
The Simpson Strong-Tie Student Scholarship Program is administered by Scholarship America, the nation's largest designer and manager of scholarship and tuition reimbursement programs for corporations, foundations, associations and individuals.
For more than 65 years, Simpson Strong-Tie has dedicated itself to creating structural solutions and technology to help people design and build safer, stronger homes and buildings. Considered an industry leader in structural systems research, testing and innovation, Simpson Strong-Tie works closely with construction professionals to provide code-listed, field-tested products and value-engineered solutions.
Our engineered products and solutions are recognized for helping structures resist high winds, hurricanes and seismic forces. They include structural connectors, fasteners, fastening systems, lateral-force-resisting systems, anchors, software solutions, and product solutions for repairing, protecting and strengthening concrete. From product development and testing to training and engineering and field support, Simpson Strong-Tie is committed to our customers' success.
For more information, visit strongtie.com