Posted January 26, 2021
Cerrowire donates $50,000 to Cook Museum
The Cook Museum of Natural Science in Decatur, Alabama enables people to interact with and learn about nature.
---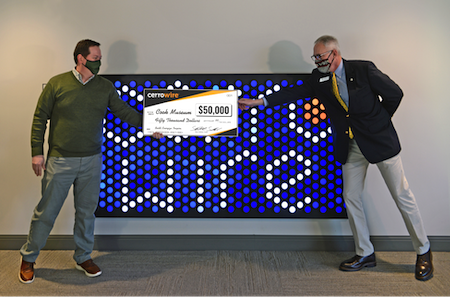 For 100 years, Cerrowire has manufactured copper wire to power America. As a part of the company's centennial celebration, Cerrowire has donated $50,000 to the Cook Museum of Natural Science in Decatur, Alabama, to power creativity in kids of all ages.
The donation sponsored the addition of an Everbright kinetic art installation in the second-floor lobby at the museum. The 4' by 8' grid of 464 adjustable LED dials that rotate endlessly in either direction through the color spectrum offers almost unlimited color possibilities for creating designs. The fully interactive wall lets people of all ages create through light.
The Cook Museum of Natural Science is a state-of-the-art natural science museum that provides a hands-on, immersive experience where people can explore, interact with, and learn about nature.
Cerrowire President Stewart Smallwood commented, "As a company, we are committed to having a positive impact on our communities and the environment. 'Build. Energize. Inspire.' is more than the Cerrowire motto. It is at the core of how our entire team lives and works everyday. We are very pleased to be able to support the Cook Museum with this donation that helps kids build confidence, energize the imagination and inspire creativity."
Headquartered in Hartselle, Alabama, Cerrowire is a copper wire manufacturing company with plants in Alabama, Georgia, Indiana, and Utah. Cerrowire supplys building wire and cable throughout North America for commercial, industrial and residential use. Its products are available through electrical distributors, wholesalers, and retailers. Learn more at www.cerrowire.com.