Posted January 27, 2021
Viega launches new press tool line
Pressgun 6 and Pressgun 6 Picco offer an affordable entry to pressing technology.
---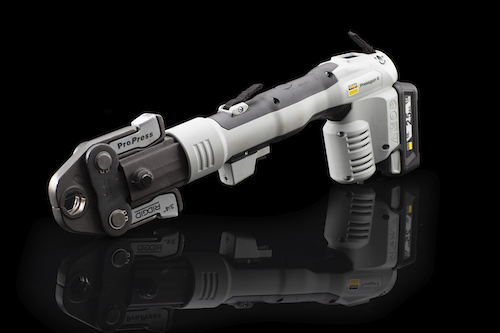 Viega LLC, the company which introduced pressing to North America, now has its own branded pressing tools for use with its fittings.
The Viega Pressgun 6 and Pressgun 6 Picco are now available in distributors and through Viega. The tools, which are the first in North America to carry the Viega name, cost less than similar press tools from other manufacturers and are an affordable way for contractors to adopt pressing.
"We know the cost of tools has been a barrier for some contractors who want to adopt pressing," said Dominic Ku?ng, Senior Manager, Product Portfolio. "The lower price of the Pressgun 6 and Pressgun 6 Picco will make it easier for those customers to buy a tool and begin realizing the enormous benefits of pressing."
Tools aren't a new offering for Viega. It has sold branded tools in Europe for years in collaboration with RIDGID, which manufactures the Pressgun 6 and Pressgun 6 Picco for Viega.
The Pressgun 6 is a no-frills, cost-efficient workhorse that can press up to 4" ProPress copper and stainless and 2" MegaPress with the V2 actuator and rings, as well as 2" PureFlow PEX.
Its features include:
Eight-second press cycle
LED display indicating number of presses left on a charge
Steel cylinder head and jaw intake
270° rotating cylinder head
Forward and backward compatibility with RIDGID batteries
The less expensive and less powerful Pressgun 6 Picco can press up to 11⁄4" ProPress with the C1 actuator and rings, 11⁄2" PureFlow and 3⁄4" MegaPress.
Neither tool can be used with the MegaPress XL PressBooster or MegaPress Z3 Actuator.
Both tools come with an 18-volt lithium-ion battery and charger. The 2.5/5.0 Ah battery offers 25% more presses per charge than the previous battery. It includes a battery life indicator. The charger comes with a standard 100-240V charging cord and a 12V DC charging cord so it can be charged off a vehicle lighter. The battery also features forward and backward compatibility with RIDGID batteries, chargers and tools.
"We're excited to make it possible for additional contractors to become more efficient and productive through pressing," Ku?ng said. "They'll find that the Pressgun 6 and Pressgun 6 Picco will revolutionize their businesses and quickly pay for themselves."
To learn more about the tool, visit here.