Posted March 31, 2021
Eagle opens 12th DC in NJ/NYC
Jobsite safety product, debris netting, tarp, enclosure and containment solutions leader will speed service to projects in NYC metro market.
---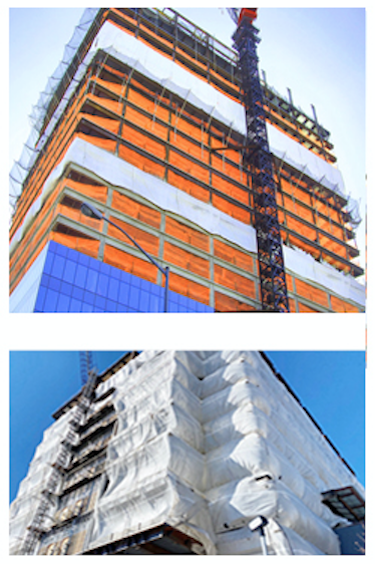 Eagle Industries is North America's leading supplier of jobsite safety products, debris netting, tarps, enclosures, and containment solutions. Over the last decade, the Eagle Brand has grown in the construction industry with an alliance of distributors, supported by 11 Distribution Centers across the country. April 1st 2021, Eagle opens New Jersey as its 12th Distribution Center!
Throughout the Covid pandemic, many businesses faced difficult decisions. Some reduced capacity, some forced to halt operations, and some preserved resources for dark days ahead. Eagle honored its core value "Grow Together" and decided to push the throttle forward, with its entire team and partners on board expanding the organization to new heights.
The company made a commitment that it would respond to the changes, adapt, and learn new ways to communicate with customers our industry had never experienced before. Eagle CEO, Patrick Calvo, stated "We didn't have a choice. We have a strong, loyal customer base that depends on us. We have employees that require our leadership and vendors that rely on our business. We must pull together, adapt and lead the market as an elite brand in the construction space."
Michael Calvo, Vice President, stated, "It's written on the walls inside our NOLA HQ — ONE TEAM. ONE VISION. We take this motto to heart as we work together to service our customers every day."
Once the pandemic dust begins to settle, the economy will likely bounce back. The decision to open the New Jersey was simple to make. Due to Covid restrictions, construction sites in NYC were delayed and many shut down for months. Metro New York City needs a supplier like Eagle, ramping up production and inventory to support the reopening of construction sites across the East Coast.
Along with new locations, Eagle is hiring new team members to better service its customers. The company is taking a new approach to technology and software, bringing innovation and digital services to its construction supply network. Lastly, the brand is introducing new products, including high performance Welding Blankets, Fire Retardant Tarps, Construction Poly Sheeting, Concrete Blankets, Vapor Barrier Films and more.
Eagle's mission is to provide solutions for safer and more productive jobsites around the world. By opening New Jersey, that vision continues to become a reality for the growing Eagle Jobsite Brand. GET THE JOB DONE RIGHT! ™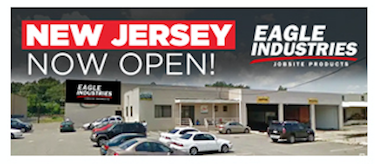 Eagle Industries
Jobsite Safety | Enclosures | Containment
www.eagleind.com
New Jersey Location:
500 Industrial Road, Carlstadt NJ 07072