Posted June 14, 2021
ITR Virtual Keynote: Supply, Demand and Inflation
ITR President Alan Beaulieu and Economist Lauren Saidel-Baker will look at the current trends impacting distribution.
---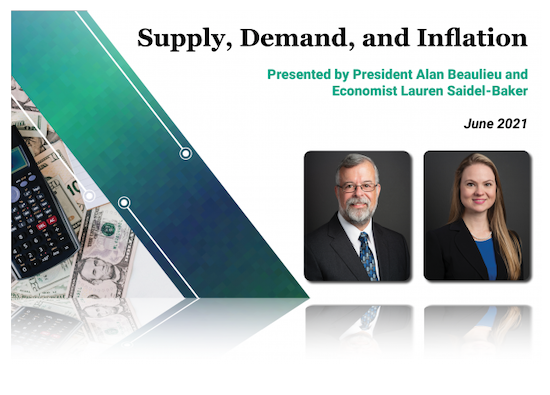 June 17, 2021 at 2:30 p.m. ET
STAFDA's economist, ITR President Alan Beaulieu, and economist Lauren Saidel-Baker will be co-hosting a virtual keynote session to review the current supply chain trends impacting the market on June 17, 2021 at 2:30 p.m. ET.
"We are hearing concerns from our clients on labor costs, labor availability, material scarcity, rising prices, and higher interest rates," says the press announcement. "In response, Alan Beaulieu and Lauren Saidel-Baker will co-host this virtual keynote to delve into these topics."
On the agenda:
• Labor pressures are intense. They will discuss costs, labor availability, and when to expect improvement for key industries, including construction, manufacturing, and distribution.
• Supply and demand still work. There are notable changes coming to the demand side of the equation. Alan and Lauren will discuss both the timing and magnitude of these upcoming changes.
• Material scarcity is on everyone's mind. They will assess trends in transportation, production, inventory, and imports as they examine the supply side of the equation. The discussion will include oil, copper, plastics, paperboard, and others.
• Inflation discussions invariably lead to the topics of price rise, margin squeeze, and higher interest rates. Alan and Lauren will present our inflation forecast and discuss what it means for interest rates, as well as the implications regarding key business decisions over the next 12–24 months.
• Mexico and Canada are important markets for the US as well as key sources of many products. Alan and Lauren will examine the broader economic health of both geographic markets and hone in on the availability of key products from each.
Click here to register. The price for this event is $125.
Can't make the date? It's okay! Your registration will include a recording. Don't miss this must-attend presentation that will help keep you ahead of the curve and instill confidence as you lead your business through these ebbs and flows.