Posted June 16, 2021
Product Knowledge: Tips for Specifying Railing for Multifamily Balconies
Trex Commercial Products offers code, safety and installation tips for specifying multifamily balcony railings.
---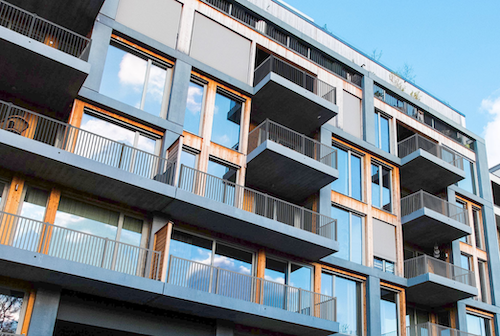 By: Chad Benning, Vice President of Projects, Trex Commercial Products
In the wake of COVID-19, multifamily housing developers are emphasizing outdoor amenity space more than ever with private balconies now at the top of many tenants' must-have lists.
In a recent white paper published by Newmark in conjunction with Hartman Design Group, a major developer reported that 70% of its units are now being designed with balconies, compared to 40%-50% pre-pandemic. Furthermore, they anticipate raising rent premiums for this in-demand amenity.
While there's no question balconies have the power to drive added value in multifamily residential buildings, they also require careful specification. The combination of being elevated and outside presents structural and safety concerns that must be planned for from the outset. As a leading provider of architectural railings, Trex Commercial Products has more than three decades of experience engineering and fabricating architectural railing systems for a wide range of venues and building types. Following are four key areas that require consideration when specifying balcony railing.
Code Compliance
First and foremost, balcony railing must be specified to code. Requirements vary by jurisdiction, so it is important to consult with a subcontractor well-versed in the engineering requirements for guardrail systems to assure compliance with codes such as height requirements, wind loading, live loads, snow loads, uplift, and materials selection for the environment – including anchors and fasteners. Due to the structural loading required by building code, such as for wind and live loading, it is important that railings are considered early in the design phase to assure the balcony structures can handle the proper loading criteria.
A good supplier partner will provide a comprehensive proposal that contains all the pertinent details a developer needs, including detailed takeoffs with specific inclusions (or exclusions) for railings within the project scope. Additionally, our team typically includes 3-D renderings based on the architectural and structural specifics for a project. These precision measurements eliminate the risk of human error and are especially helpful during the approval process. They also save weeks of manual field measuring and result in a much faster track to manufacturing.
Aesthetics
In addition to ensuring safety, balcony railings should meet the architect's design intent and enhance the exterior aesthetic of a building. Design considerations include color, code compliant height, engineering requirements and panel infill design. Once utilitarian, today's railing options for multifamily buildings are as varied and versatile as their single-family and commercial counterparts. Trex Signature® railing, for example, is available with a range of infill options including traditional pickets along with industrial-inspired mesh inserts and transitional glass panels. Signature railing also can be upgraded with LED lighting for added ambiance and safety.
Trex Commercial Products is currently working on The Arello, a new multifamily development in Olathe, KS. In addition to providing balcony railing for the upscale apartments, we are using our fabrication capabilities to engineer a custom pool fencing system utilizing components from our Signature railing line to provide aesthetic consistency across the project's outdoor living spaces.
Installation
Another reason to consider balcony railings early in the design process is because installation requires close collaboration with other trades to assure the construction for anchorage points meets code requirements and product design intent. Proper phasing of activities is essential for aligning with construction methods and scheduling. At the Ascent by Watermark luxury multifamily community in Colorado Springs, we provided detailing of each unique site condition which allowed us to proactively identify opportunities to optimize sequencing with our trade partners and constructability of stair conditions.
Versatility and ease of installation should also be considered when evaluating railing options. For instance, our Signature railing is available in pre-assembled panels that accommodate interchangeable infill options. The system also works with multiple anchoring options, including for wood substrate, concrete, and wall attachments. Assembly requires no special tools or tightening, and components can be modified on site to fit field conditions.
Longevity
If designed with proper material selection and connections, balcony railings should last the lifetime of a building. Offering superior strength and design flexibility, aluminum is ideal for balconies. Durable powder coating allows railings to resist corrosion and retain their color with very little maintenance. Aluminum also is a sustainable material. Trex Signature railings, for instance, are made from 50% recycled content and are 100% recyclable, allowing them to contribute to the LEED Recycled Content credit.
Proper connections are equally important for ensuring longevity. We sometimes see a lack of detail related to railing connections which can create future cost variances and construction issues when left ambiguous. Again, this is where an experienced supplier partner can prove extremely valuable. For instance, at the Boulevard at Central Station project located in Tinley Park, IL, we collaborated ahead of time with the general contractor to take advantage of the versatility of the product's anchoring options to accommodate a specific design intent of the balcony structure that differed from the original rail attachment plans.
Particularly when balcony railings are being considered, architects and developers should enlist the help and expertise of a qualified manufacturer at the beginning of design planning to best understand what's possible and what's required for an optimal outcome. When done right, balcony railing can enhance privacy, optimize views and create an outdoor oasis that commands a premium and delivers tenant satisfaction.
Sources:
· https://re-nj.com/how-will-covid-19-impact-multifamily-design-or-operations/
· https://www.nmrk.com/insights/thought-leadership/nooks-balconies-and-beyond-rethinking-multifamily-design-post-pandemic
About the Author
Chad Benning is Vice President of Projects for Trex Commercial Products, Inc., a subsidiary of Trex Company, Inc., and a national leader in engineering and fabricating architectural railings for commercial applications. Since 1990, the Minneapolis-based company has been committed to elevating the abilities of all people to safely access and enjoy amazing life experiences, while building an industry-leading reputation for quality and customer service. To learn more, visit https://www.trexcommercial.com/