Posted June 16, 2021
Special: Metabo HPT Addresses Nailer Market Trends
Product manager Lucio Morales analyses trends and Metabo HPT's MultiVolt fastening solutions.
---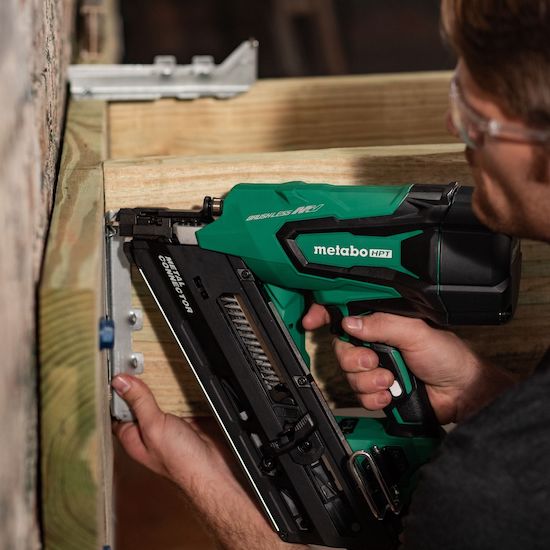 "It's no secret that battery technology has improved significantly enough over these last few years to allow for the development of cordless tools targeted to specific trades that were never considered cordless capable before," says Metabo HPT Product manager Lucio Morales.
"Let's take the framing trade for example, a few years back the only way to frame was using a pneumatic nailer and if you wanted to go cordless, the only option was a cordless gas nailer that had its limitations (gas smell, cartridges that needed to be replaced, tools that needed frequent cleaning etc).
"But today, we have successfully eliminated the compressor, hose, and gas from the cordless framing equation. Now we have the technology that allows you to easily drive over 1,000 nails with a single charge on the battery-only framing nailer."
Additionally, Metabo HPT launched the newest addition to the MultiVolt System of cordless tools targeted to the framing trade with the 36V Cordless Metal Connector Nailer, model NR3665DA. This cordless metal connector nailer is capable of driving 1-1/2" and 2-1/2" fasteners with diameters of up to 0.162". It delivers the familiar "feel" of a pneumatic nailer thanks to Metabo HPT's unique Air Spring Drive technology.
"By combining Metabo HPT's pneumatic-like "feel" with the convenience and power of the versatile MultiVolt battery, we offer the end user the ability to drive up 900 fasteners on one charge with the included 2.5Ah MultiVolt battery," Morales says.
"This metal connector nailer addition to Metabo HPT's versatile MultiVolt System- rounds out the essential tools needed in the framing community including cordless framers, cordless metal connector nailers, cordless circ saws and cordless recip saws- all that share the powerful MultiVolt battery or can be used with the unique AC adapter if needed."
"At the end of the day, Metabo HPT provides end-users with a complete solution for their trade - pneumatic or cordless- however they want to go."
Learn more at www.metabo-hpt.com