Posted June 30, 2021
PaintLine Portable Jobsite Spray Booth is an AWFS Visionary Awards Finalist
Booth will be shown at AWFS Fair in Las Vegas, July 20-23, 2021.
---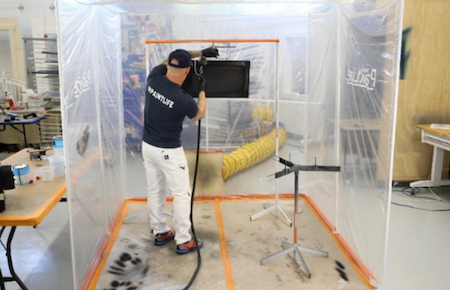 PaintLine's Portable Jobsite Spray Booth has just been named as a finalist in this year's Association of Woodworking & Furnishings Suppliers® (AWFS) Visionary Awards. The Portable Jobsite Spray Booth can be seen in PaintLine's Booth #869, at the AWFS Fair held in Las Vegas, July 20-23, 2021 at the Las Vegas Convention Center.
The PJSB can be used on jobsites or in workshops. It's an affordable, portable, professional spray booth solution for spraying/applying finishes, sanding, routing or any other application where particulate needs to be contained and/or away from work pieces.
The PJSB also earned a "Top Finishing Product of 2020" from The Woodworking Network in December, 2020. Editor Will Samspon conducted a complete review including video.
PaintLine provides innovative, practical, and economical drying rack, spray stand, spray booth and other process-oriented product solutions for cabinet makers, millwork shops, painters, remodelers, and DIYers. Its products are sold direct-to-consumer as well as through a growing number of online and brick and mortar retailers.
About PaintLine
Since the 1990s, PaintLine has provided innovative, practical and economical drying rack, spray stand and other process-oriented product solutions for cabinet makers, millwork shops, residential remodelers, renovators, painters, and DIYers. PaintLine is a Merchandising Systems Inc. brand, a leader in metal fabrication for material handling and retail store fixturing for over 50 years. PaintLine is headquartered in Menlo Park, CA. For more information, go to www.thePaintLine.com