Posted July 14, 2021
West Lafayette buys first Multihog in Indiana
Multihog multi-purpose vehicles are made in Ireland.
---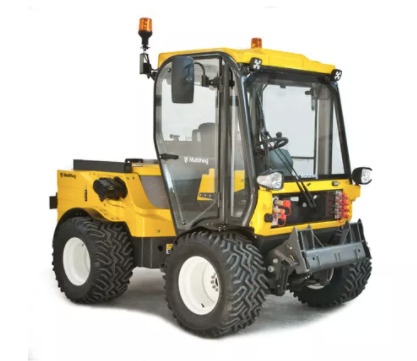 The City of West Lafayette purchased Indiana's first Multihog as an all-round maintenance vehicle.
To support Multihog's growth and success in the US market, the company works with Enterprise Ireland, Ireland's trade and innovation agency, who partners with Irish enterprise companies to help them start, grow, and win export sales in global markets.
Enterprise Ireland is pleased to work with Multihog to innovate and increase brand awareness across the US.
"Multihog has developed a first-in-class reputation across the US for their commitment to innovative design, customer-centric focus, and unmatched performance," said Phil Griffin, SVP Industrial for the USA at Enterprise Ireland. "We are excited to continue to support Multihog as they scale their US operations and consolidate their position as a market leader in the multi-purpose tractor space."
Since its arrival, the Irish multi-purpose vehicle manufacturer has gone on to deliver further units to several other prestigious customers in the region, including Indianapolis Airport and Owensboro Health, among others.
The City opted for the MXC 120 unit, a model popular with municipal customers in harsher climates, thanks to its reputation as a 'workhorse' when it comes to snow blowing. To ensure year-round operations, West Lafayette purchased eight attachments, including snow plows, a street sweeper, boom mower and snow blower, to name but a few.
Streets Commissioner for the City, Ben Anderson, has seen the time-saving impact the MXC 120 unit has had on his city. "I recognised straight away that a multi-purpose machine like this could really serve our city well. Honestly, we underestimated just how much time it was going to save us. We've been especially surprised with the cul-de-sacs we have to maintain. They previously took us 4.5 hours to clear with a regular snow plow, now with the Multihog it takes 1.5 hours, tops. And that's all down to its maneuverability."
West Lafayette were also keen to buy from a trusted local supplier, and Brown Equipment Company, Multihog's authorised dealer for the region, has been doing business with the City for more than fifty years. Kiel Williams, sales representative at the Company explains, "We've been impressed with Multihog's vehicles since we first saw them back in 2018, and I was delighted to be part of this deal to deliver the first unit in Indiana. Knowing how passionate Ben is about getting the best value for his equipment budget, I didn't hesitate to recommend a machine as versatile as the Multihog."
As the first Multihog customer in Indiana, Ben admits that he was both excited and a little hesitant to allocate budget to a somewhat new brand in the North American equipment field. "I knew it was something special the first time I drove it. I did quite a bit of research, and looked at other manufacturers of similar machines, but I kept coming back to the Multihog. It was ticking a lot of boxes for me; multifunctional, well-built and super comfortable to operate, which is definitely important for my crew."
Multihog's Sales Director, Tony Duff, is delighted with the success of the company's first machine in the midwestern State, saying "Both Brown Equipment Company and West Lafayette have been great to work with. It's wonderful to see a customer really utilizing our multi-purpose machine in every possible way – which of course, is exactly what it was designed to do."
About Multihog:
Originally designed as a machine for cutting grass on slopes, the Multihog has evolved into a market-leading range of multi-purpose sweepers and tractors used by airports, municipalities, and contractors around the world. The company's global HQ and production facility is located in Dundalk, Ireland, where more than 70 employees are involved in designing, manufacturing and exporting the growing range of maintenance vehicles. Multihog products are sold worldwide through a network of almost 100 dealers. For more information on Multihog please visit www.multihog.com.
About Enterprise Ireland:
Enterprise Ireland is the Irish State agency that works with Irish enterprises to help them start, grow, innovate, and win export sales in global markets. Enterprise Ireland partners with entrepreneurs, Irish businesses, and the research and investment communities to develop Ireland's international trade, innovation, leadership, and competitiveness. For more information on Enterprise Ireland, please visit https://www.enterprise-ireland.com/en/About-Us/.