Posted September 1, 2021
Weiler Abrasives Offers New Multi-Pass Welding Guide
Downloadable PDF provides information on proper abrasives selection and usage.
---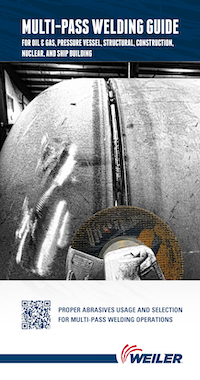 Weiler Abrasives, a leading provider of abrasives, power brushes and maintenance products for surface conditioning, is offering a downloadable PDF of its new Multi-Pass Welding Guide. The company developed the guide for industries that commonly weld thick metal joints with multiple passes for increased strength, including oil and gas, pressure vessel, construction, shipbuilding and more.
In multi-pass welding applications, proper abrasive selection and usage helps ensure good weld penetration and reduces the risk of inclusions that could lead to failed inspections or potential weld failure.
The Multi-Pass Welding Guide provides step-by-step instructions for abrasives selection and usage for part prep cleaning and root pass grinding, along with hot, filler and cap pass cleaning. It also offers details for finishing welds. In addition, the guide includes explanations and product recommendations for beveling, facing, and mechanical welding. Each section offers clear descriptions to educate users how to optimize results on the weld passes, helping save time and money in the operation.
To simplify abrasives selection for cutting, grinding and cleaning, Weiler Abrasives included easy-to-read product comparisons, plus pros and cons for commonly used wheels, discs, brushes and cups.
Download a copy of the Multi-Pass Welding Guide or fill out a form for assistance with multi-pass welding applications at WeilerAbrasives.com/catalog/Multi-Pass.
About Weiler Abrasives Group
As an industry leader and global manufacturer of surface conditioning solutions, Weiler Abrasives Group is dedicated to forging collaborative relationships with our customers in diverse markets — Metal Fabrication; Industrial Production; and Maintenance, Repair & Operations — to tackle their toughest cleaning, grinding, cutting, deburring and finishing challenges.
Weiler Abrasives, One Weiler Dr., Cresco, Pa., 18326-0149 • (800) 835-9999 • www.weilerabrasives.com.