Posted September 15, 2021
ITR Economics Announces Construction Market Trends for 2022 Webinar
Webinar is set for September 23, 2021 at 2:30 p.m. ET.
---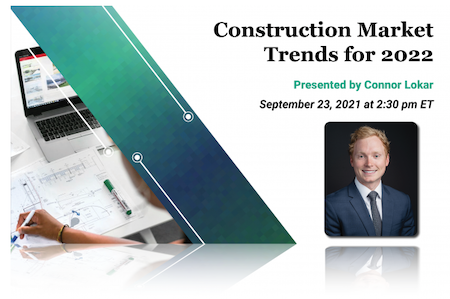 STAFDA's economic consultants at ITR Economics have announced a webinar on their expectations for the 2022 construction market.
The webinar will take a deep dive into the construction industry, including single- and multi-family residential market trends, regional variations in market performance, nonresidential market trends, material pricing and supply chain expectations for 2022, and market risks and opportunities.
What Attendees Will Receive
Attendees will know how much residential market activity expected to slow in 2022.
They will have our expectations of when nonresidential markets will begin to pick up and a vertical-market update on how different sectors are faring to this point.
They will gain understanding of how long the current inflationary and supply chain pressures will last and when they will improve.
Questions to be Answered
Will housing market growth continue in 2022?
Will supply chain constraints improve next year?
Where are material costs headed next year?
What rebound can be expected for nonresidential markets next year?
Cost for this webinar is $75. A recording and slide deck will be included with purchase.