Posted October 7, 2021
Green Industrial Cleaning Brand Introduces Fresh Look and Website
Clean, modern design focuses on the products being Made in America.
---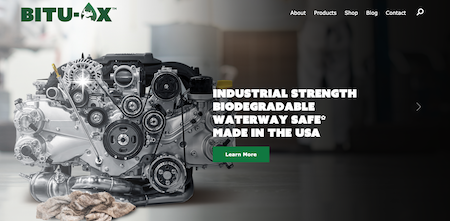 The Bitu-Ox™ line of industrial cleaning products, formulated and blended by Green Way Products, LLC, introduced the new look of their product line, with a new logo, bottle designs, and website.
The vision behind the rebranding was to bring forth a clean, modern design that focused on the products being Made in America.
"We had gotten a lot of feedback from customers, and the consensus was that our old product labels were too busy, and we needed a fresher, modern look to stand out," Melissa Sutley, Co-Owner & Partner of Green Way Products, LLC, said. "Our products are still the same quality-tested solutions that our customers know and love, but now with branding that is just as tough as Bitu-Ox™ works."
Founded in 2012, Green Way Products has put years of research and development into their Bitu-Ox™ line of products to ensure they are a safer, more effective option to hazardous chemicals many companies are using worldwide. They pride themselves in developing affordable, high-quality, and highly effective certified biodegradable and waterway safe* cleaners and degreasers. Their three industrial strength cleaners, Bitu-Ox™ 400, Bitu-Ox™ Bio NT, and Bitu-Ox™ Pro, are versatile for use in various industries, including: oil and gas, asphalt, marine, military, automotive, public works, janitorial, and more.
"The brand has grown so much since the initial launch; it was definitely time for a fresh look to make us stand out," says Sutley. The new logo has kept its iconic ox symbolism, likening the product's strength to the strength of an ox. Their new site is now easier to navigate, allowing customers to effortlessly purchase products and learn more about their uses.
Since the new website and branding launch, Bitu-Ox™ has seen an increase in overall brand awareness and visibility. "The new branding has sparked a lot of curiosity. More people want to try the products, and once they do, they realize how effective they really are," says Sutley.
Visit https://bituox.com/ to explore their new website, logo, and product packaging.